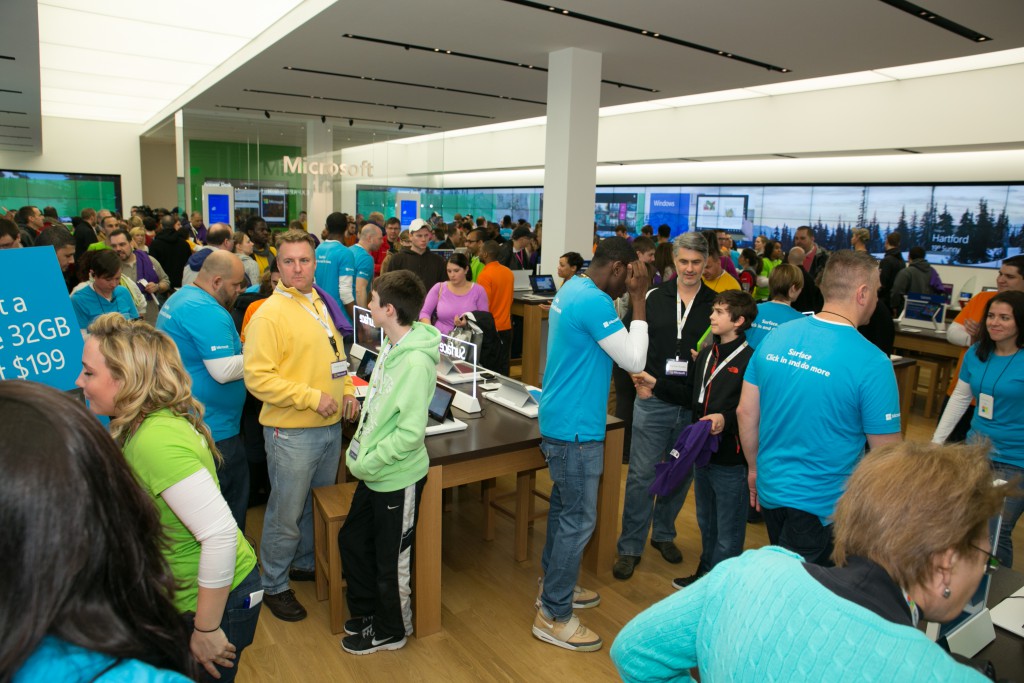 Microsoft today highlighted how Microsoft Stores help and support small business owners and entrepreneurs. Microsoft Stores now have dedicated SMB Zones that feature hands-on access to business-grade technology and technical guidance tailored with business owners and entrepreneurs in mind. Microsoft Partners can also take advantage of these SMB Zones to connect with their customers. Also, the Microsoft Stores team have implemented the Accelerate Your Business program. It is new leasing program is designed to simplify the decision-making process and ensure business owners have access to the latest in business-grade devices, warranty options, and best-in-class in-Store and online training and support.
In addition, Micrsosoft Stores offers the following for SMBs,
Business Sales Specialists – Business sales specialists help guide local business owners and entrepreneurs with their technology needs whether it's in-Store or on-the-ground at the business.
Answer Desk: Advisors at the Answer Desk help small and midsized businesses keep their devices running smoothly. They are on-hand to answer technical questions, make recommendations and offer full service and support on all software and hardware. In fact, they'll answer questions and attempt to fix PCs, tablets or phones free of charge, regardless of what device you have or where you bought it – it's like having your very own helpdesk and IT support right in our Store.
Surface Membership: A subscription-based program, Surface Membership provides Microsoft Stores' small and midsized business customers with in-Store, online and phone support, one-on-one personal training, financing, member discounts and more. Small and midsized business customers can now take advantage of lower monthly rates, reduced buyout fees and additional in-Store support with our updated Surface Membership model.
Personal Training: Specialists educate customers with tutorials about Windows devices, Office 365, OneNote, Skype, OneDrive and more. Personal trainings are available for $49 for one-hour or $99 for one year of unlimited use.
In-Store Events: Microsoft Stores regularly host networking events, workshops, trainings and seminars on topics like "Quick and Easy Online Advertising" and "How to Stay in Touch With Customers" led by both Microsoft and industry experts.
Hosting Events: The Community Theater is available at most Microsoft Stores for partners and businesses to host trainings or networking events, free of cost.
Visit your local Microsoft Store and speak to a Business Sales Specialist or go online to microsoftstore.com/accelerateyourbusiness for more details.