Windows 10 Creators Update was announced just last month at the Windows 10 event by Microsoft in New York City. The company has been releasing new builds of Windows 10 to Windows Insiders for a little while now, and it is starting a new Bug Bash for Insiders today. Bug Bash, for those unfamiliar, is a week where Microsoft will only focus on fixing bugs in Windows 10 Insider Preview with the help and feedback from Insiders. Microsoft is calling the latest Bug Bash the "November 2016 Windows 10 Bug Bash" and it be will publishing a handful of Quests for Insiders to complete throughout the week in the Feedback Hub app on Windows 10.
The company has already published a handful of Quests in the Feedback Hub as part of the Bug Bash — ranging from easy quests such as Edge Browsing to quests for power users such as testing MySQL on the Windows Subsystem for Linux: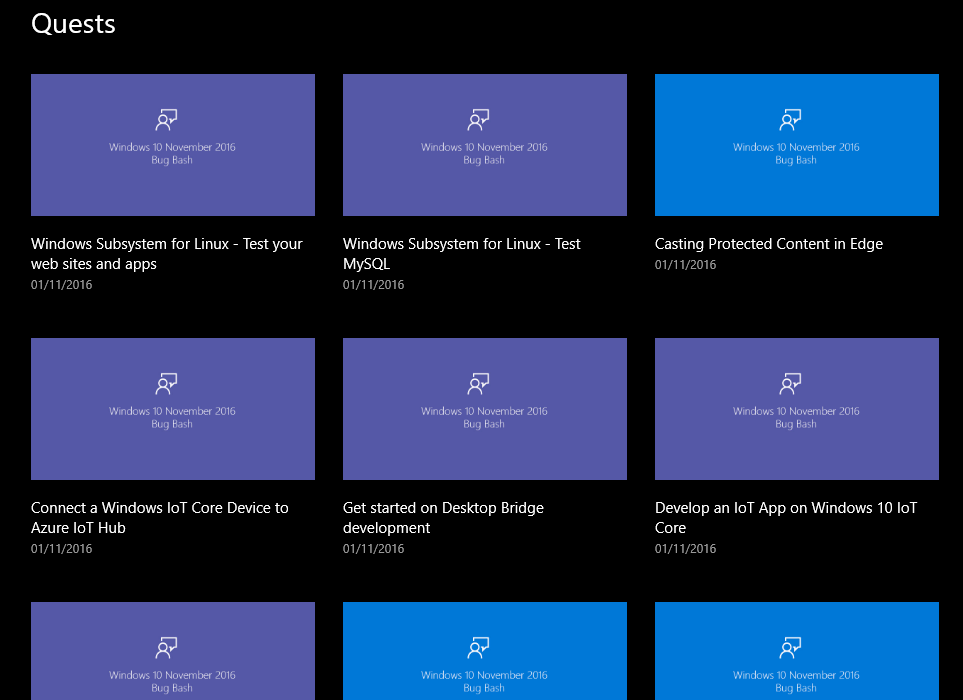 In the Feedback Hub app, Microsoft has also provided clear instructions on how to complete a quest which can be quite handy. Windows Insiders are encouraged to finish these quests and submit reports about any issues they find on the Feedback Hub as Microsoft engineers will be working throughout the week to fix these bugs. This, of course, means that there won't be a lot of new features in the next Windows 10 Insider build, but it will include lots of bug fixes which are sometimes nicer than new features. It is worth noting that it is best to be running the latest Windows 10 Insider Preview build — and that is build 14959, which was released just last week.
Microsoft will likely hold more Bug Bash sessions in the coming months — but the most important one will possibly be happening just before the release of Windows 10 Creators Update which is expected to arrive in early 2017. The update could be available in March 2017, so Microsoft might hold a big Bug Bash in January or February.