It appears that the first quarter of 2020 is when Microsoft will replace the classic Microsoft Edge with the recently announced Chromium-based Microsoft Edge browser. According to a recent entry in Windows 10 20H1 Build 18936, Microsoft already started the process of removing the classic Edge, apparently to make room for the new Chromium-based Edge browser. However, the classic Edge is still working on the Windows 10 Build 18396, meaning that the change made by Microsoft is not in effect just yet.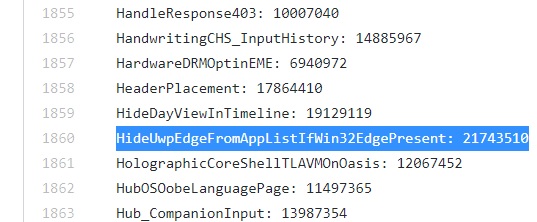 Interestingly enough, as you can see in the above image, there aren't any listings that suggest that Microsoft is going to replace the classic Edge browser with the new one. Nonetheless, it seems likely that Microsoft will bundle the new Edge browser with future releases of Windows 10, and that makes perfect sense.
Microsoft introduced the Chromium-based Edge browser at its annual developer conference. The browser is available in Dev, and Canary channel; users on Windows 10, Windows 7, and MacOS can pick Dev or Canary and test the browser right now.
Microsoft is yet to notify as to when users will get to use the company's first Chromium browser but after seeing the entry, it's quite clear that the next release of Windows 10, which is codenamed 19H2, will not come with the new Edge browser.
Via: WindowsLatest