Microsoft's Surface team have been producing some really great devices over the past few years. They managed not to disappoint customers with their design in the recent times, and the company's latest and greatest device, the Studio, isn't any different either. The Surface Studio is a gorgeous piece of hardware, and there's no doubt about that.
For a machine targeted at Creators, however, it isn't a powerful enough device for the price (and there's obviously a reason for that). The most powerful Surface Studio configuration costs $4199 — and for that price, you get Intel's 6th-gen quad-core Core i7 processor (i7-6820HQ, clocked at 2.7GHz), 32GB of RAM, a 4GB GPU, a 128GB SSD and a 2TB HDD.  While this is a pretty powerful configuration for most people, Dell would sell the equivalent PC without the screen for less than $1800, leaving a massive premium for which is, in the end, an amazing screen and a nice case.
Despite this, a lot of customers are interested in buying the Studio.
So what makes the Surface Studio so compelling? It's probably the device's stunning display. The Surface Studio sports a 28-inch PixelSense display (with a resolution of 4500×3000 and 192DPI). What makes this display even better is the fact that 1 inch in the display is 1 inch in real life. In fact, you are most likely going to buy the device for its beautiful display.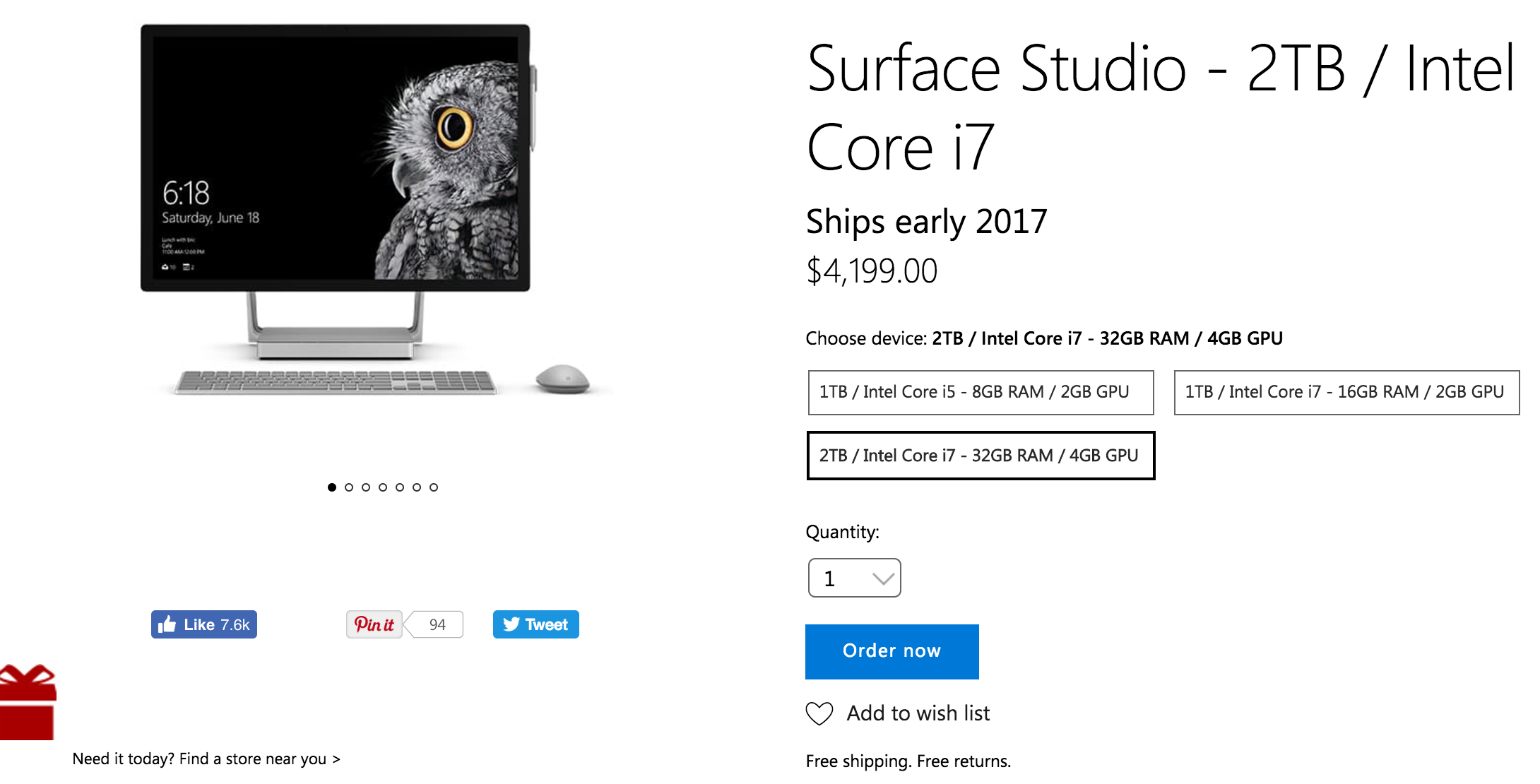 Unfortunately, however, Microsoft isn't selling the Surface Studio's display separately which definitely is a bummer. I personally would buy the Surface Studio's display separately and use it with my main PC which is powerful enough and it's also a lot cheaper than the Surface Studio since it's custom built. Ironically, selling the display separately would make it more valuable, as one would then be able to upgrade the PC part separately, increasing the lifetime of the display even while more powerful PCs are being released.
Selling the display separately would also open up the market to more high-end users, as you would also be able to connect multiple displays if you need and get all the power you need from a PC. It would also allow you to connect your other Surface devices, such as the Pro 4 or Book with the gorgeous display and give that "Studio feel" without you having to pay $3000 or higher.
Microsoft is already aware of this feedback — in fact, the company has apparently received a lot of feedback from Microsoft Store customers for a standalone Surface Studio. Chris Capossela, the Chief Marketing Officer of Microsoft stated recently on the Windows Weekly podcast:
One of the fun things about having those stores [Microsoft Stores] is that you hear directly from the customers right away. And one of the most frequently asked questions in the Store is "can I just get the monitor without the CPU and hookup my existing machine."

I think we've been surprised by that. We obviously designed the whole thing to work together and we weren't thinking of it as kind of a monitor but it's definitely feedback we have heard loud and clear.
There's a small chance of Microsoft introducing a standalone Surface Studio monitor, and I am personally hoping this happens in 2017. And if it doesn't, hopefully Microsoft will offer a standalone version with the Surface Studio 2.