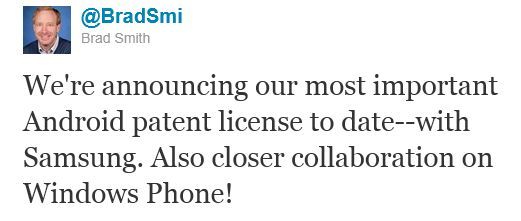 Brad Smith, Microsoft's general counsel, has just tweeted the above rather celebratory message. Â It appears Microsoft has been successful in its patent negotiations with Samsung, which was rumoured to involve a license fee between $5 and $15 per Android handset.
Brad clearly sees this as the start of a chain reaction, tweeting:
Under today's agreement, Microsoft will receive royalties for Samsung's mobile phones and tablets running Android. Today's agreement demonstrates we now have a clear path forward for resolving the industry's mobile patent issues. #clearpathforward. While we haven't yet reached the beginning of the end of mobile patent issues, perhaps we have now reached the end of the beginning.
With the largest Android OEMS, HTC and Samsung, both licensing Android, the rest of the industry, excluding Motorola, are very likely to fall in line, resulting in a handy revenue stream for Microsoft and an increased incentive for OEMs to user Windows Phone 7.
The interesting part of course is how this will affect the Samsung/Apple litigation, but Apple's aggressive moves against Samsung were likely critical in giving the giant OEM the the final push to signing up.
It seems also this would put the nail in the coffin of the rumours that Samsung was ending Windows Phone 7 development (possibly spread by Samsung themselves as a negotiating tactic) and we can look forward to some great thin and light Windows Phones from the company in the future.
Update: See the official press release after the break:
REDMOND, Wash., Sept. 28, 2011 — /PRNewswire/ — Microsoft Corp. announced today that it has signed a definitive agreement with Samsung Electronics Co. Ltd. to cross-license the patent portfolios of both companies, providing broad coverage for each company's products. Under the terms of the agreement, Microsoft will receive royalties for Samsung's mobile phones and tablets running the Android mobile platform. In addition, the companies agreed to cooperate in the development and marketing of Windows Phone.

"Microsoft and Samsung see the opportunity for dramatic growth in Windows Phone, and we're investing to make that a reality," said Andy Lees, president, Windows Phone Division, Microsoft. "Microsoft believes in a model where all our partners can grow and profit based on our platform."
"Through the cross-licensing of our respective patent portfolios, Samsung and Microsoft can continue to bring the latest innovations to the mobile industry," said Dr. Won-Pyo Hong, executive vice president of global product strategy at Samsung's mobile communication division. "We are pleased to build upon our long history of working together to open a new chapter of collaboration beginning with our Windows Phone 'Mango' launch this fall."

Founded in 1975, Microsoft (Nasdaq: MSFT) is the worldwide leader in software, services and solutions that help people and businesses realize their full potential.

SOURCE Microsoft Corp.
Via Neowin.net.