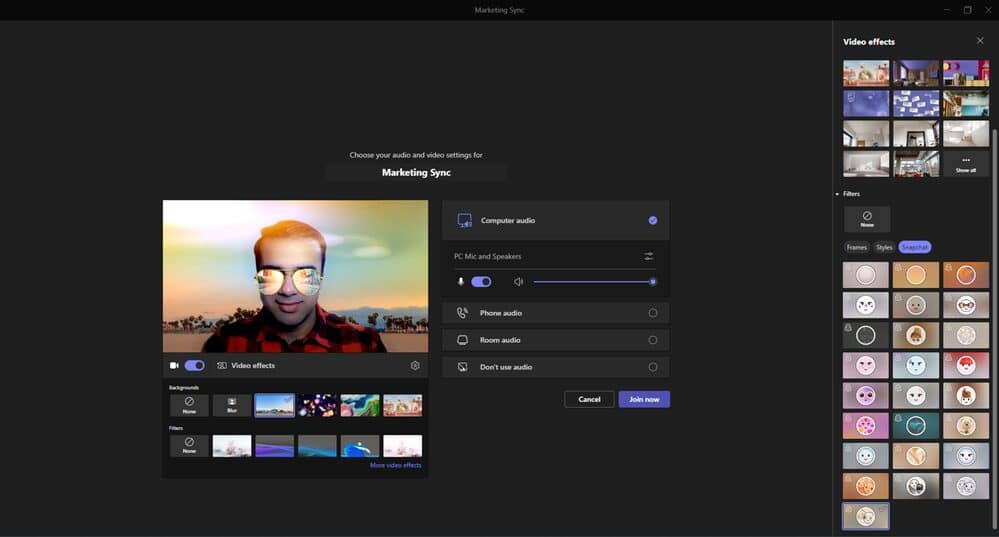 Snapchat Lenses are now in Microsoft Teams, giving users more than 20 selections of filters with fun animations or simple plain effects to enhance video calls. The software giant announced that it would roll out the lenses this week. It will initially be made available to Teams for Work customers running the "Classic" Teams version and "will be available in New Teams by calendar year-end."
After years of distancing itself from Microsoft, Snap is finally coming to its product ecosystem. This week, global Microsoft Teams users will be able to use some Snapchat Lenses in their meetings. It will be directly integrated into the collaboration app, so users won't have to download the filters or have another app to use them.
"Teams is your modern workplace, now smarter with AI, for 280 million people worldwide," wrote Jen Bradley, Product Marketing for Microsoft Teams, in a blog post. "And it just got a whole lot more entertaining with the integration of Snapchat Lenses, made possible by Snap's Camera Kit. Lenses allow users to add augmented reality (AR) effects to video calls, bringing livelier human interaction to meetings. AR captures and processes information about our physical environment and then overlays it with virtual objects and information, allowing us to see and experience the world in a different way."
The collection of Snapchat Lenses consists of Snap's well-known wacky filters, but Microsoft said it would also include the "smooth look," which will just polish users' looks without additional animations. Also, Snapchat Lenses and optional and can be activated in two different ways:
Enabling Snapchat Lenses before entering a meeting:
Click "Video Effects"

Then "More Video Effects"

Scroll down in the right pane and select "Snapchat" under the "Filters" category

Scroll down to view all and select your favorite Lens

Click "Join now"
Enabling Snapchat Lenses when already in a meeting:
Click "More…" at the top of your meeting screen

Click "Video Effects"

Scroll down in the right pane and select "Snapchat" under the "Filters" category

Scroll down to view all and select your favorite Lens

Click "Preview" to see your selected Lens without others viewing yet or "Apply" to turn on your favorite Lens
This new collaboration between Snap and Microsoft follows the news about the release of the Progressive Web App (PWA) version of Snapchat to the Microsoft Store. It was a bit of a surprise back then due to Microsoft's treatment of Microsoft in the past. To recall, Snap refused to create a dedicated app for Windows phones, denying its service to a specific group of individuals using the Microsoft OS. Developers tried to bring Snapchat to Windows using third-party Snapchat apps in the Windows Phone app store. However, the apps were removed, and Snap locked the accounts of anyone using the "unauthorized programs." Some believe this contributed to the fall of Windows phones. Snap's behavior toward Microsoft, nonetheless, seems to be slowly changing. With this, aside from the Snapchat app in the Microsoft Store and the Snapchat Lenses in Teams, we might see more Snap products within Microsoft's product and service ecosystem in the future.