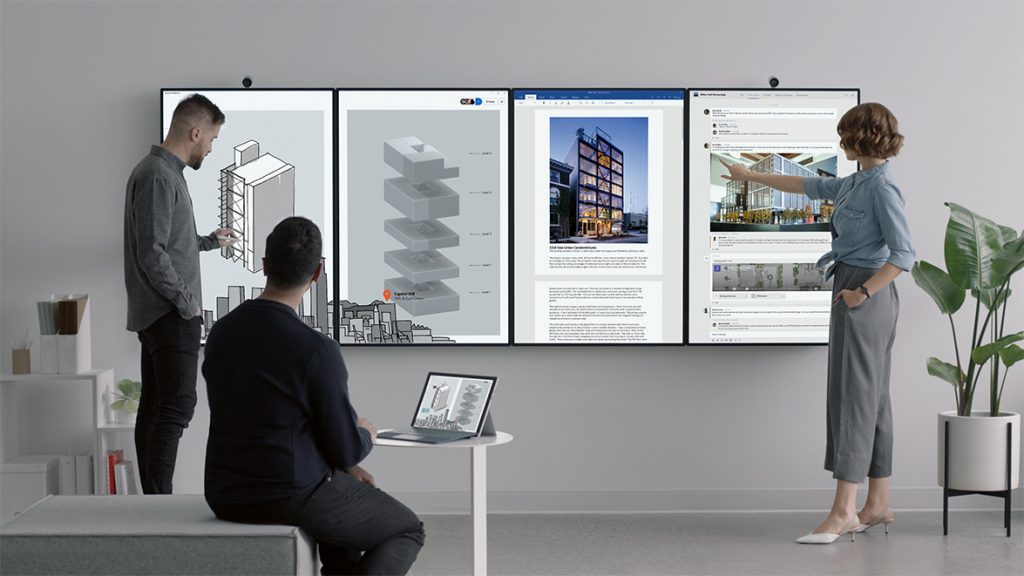 Back in May, Microsoft first announced the successor of Surface Hub which was launched back in 2016. At Ignite 2018 today, Microsoft revealed more information about the upcoming Surface Hub 2. Surface Hub 2 will have a phased introduction – first Surface Hub 2S will be released in 2019 and then the Surface Hub 2X in 2020.
Surface Hub 2S:
The Surface Hub 2S will come with 50.5-inch display, 4K+ resolution and 3:2 Aspect Ratio. Microsoft also made sure to cut on bezels so Surface Hub 2 to have a better screen-to-body ratio. The company has also added 4K cameras, integrated speakers, and far-field mic arrays. Even though the Surface Hub 2S will come with latest hardware, the software experience remains the same. Surface Hub 2S runs the current Hub software experience available on Surface Hub.
But the good news is that Surface Hub 2S is "future-proofed" with a modular design that allows customers to upgrade to a second experience – Surface Hub 2X. Surface Hub 2S will begin to ship in Q2 2019.
Surface Hub 2X:
In 2020, Microsoft will release Surface Hub 2X that includes the ability to tile, rotate, and enable multi user log in. The removable processor cartridges are an easily accessible hardware chassis on the back of the Surface Hub 2. These processor cartridges can be removed, upgraded and serviced over time. This will allow enterprises to easily upgrade their Surface Hub after a period of time without investing a huge amount again.
Microsoft will reveal more details about these Surface Hub devices in the coming months.