Microsoft's Bing Predict feature has been working overtime this election season.
The technology uses data generated from politically related searches to capture and incorporate real-time information in the predictions, such as the impact of a candidate dropping out of a race or an injury to a star player on an NFL team.
"How people act on the web correlates to how they vote," explains Walter Sun, team lead for Bing Predicts.
Lee Brenner, who leads market development for Microsoft's Technology and Civic Engagement team notes with the ongoing demise of landlines traditional polling techniques are failing, leaving a gap for new technologies.
"This is a Wild West field right now," he says. "You are talking about a massive industry that has reached a great disruption with the demise of its standard tool in the telephone and the rise of a new and innovative one in online, a place that we happen to be in."
Microsoft Pulse, an audience-response technology, is being used during the presidential debates by major news broadcasters to engage their audiences on second screens with real-time questions that probe sentiment and feelings.
"From the broadcasters' perspective, it forces people to actually pay attention to what is being said versus being drawn out into a whole other conversation," he said.
For David Rothschild, an economist with Microsoft's research organization in New York, providing continuously updated odds for the major party candidates is a prominent part of his daily job. He posts some of these on his website PredictWise, which unsurprisingly, given recent events, currently predicts very high odds of a democrat victory this year.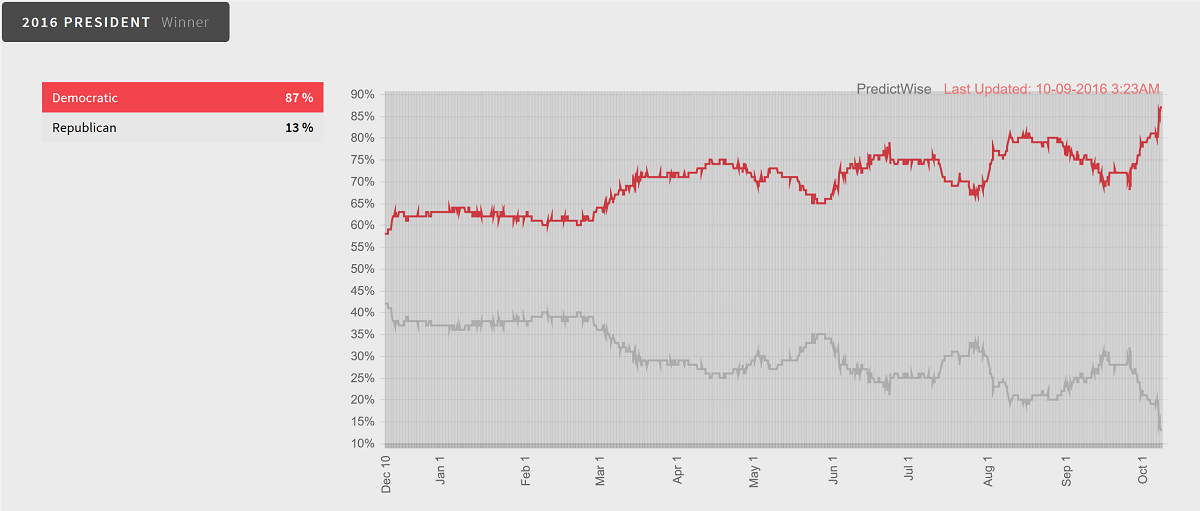 Microsoft notes their results are validated by Bing Predicts' record on forecasting everything from reality shows and NFL matchups to the primary races in the current election cycle.
The Bing Predicts team has now partnered with Cortana Intelligence to create an enterprise offering of predictive analytics uniquely bundled with web, search and social data anonymously collected and aggregated in the cloud.
"For example, we can look at how people are searching for Xbox around announcements of new release dates, new games, and correlate that to how well they will sell in a given quarter," explains Sun. "We use that signal for sales forecasting."
Rothschild notes even the US election may simply come down to money spent in the end.
"Ultimately," notes Rothschild, "a political election is a large-scale advertising campaign for a product," with the Clinton team's budget much larger than the Trump team's budget.
"There is a real possibility that it is going to be very lopsided in spending on the ground," Rothschild says. "It will be very interesting to see what happens."