Is Copilot the best AI companion out there? Help us find out by answering a couple of quick questions!
Some years ago in 2011 Nokia showed off a flexible phone prototype which would allow users to interact with the phone via bending or twisting the device.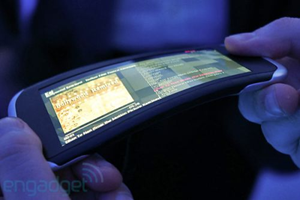 It seems some of that work is still going on at Microsoft Research, with the foundation working with Austria's Media Interaction Lab to develop a case for Windows Phone with some hidden features.
FlexCase is a novel flip cover for smartphones, which brings flexible input and output capabilities to existing mobile phones.
It combines an e-paper display with a pressure- and bend-sensitive input sensor to augment the capabilities of a phone. Due to the form factor, FlexCase can be easily transformed into several different configurations, each with different interaction possibilities. FlexCase can respond to a variety of touch, pressure, grip and bend gestures in a natural manner, much like interacting with a sheet of paper. The secondary e-paper display can act as a mechanism for providing user feedback and persisting content from the main display.
The video above demonstrates a number of different interaction techniques, ranging from using it simply as an extended display to novel uses like a Courier-like clipboard, to using it as a secondary keyboard in "laptop mode" or a hidden control surface when bent backwards.
Numerous applications apply the interaction techniques in real-world examples, including enhanced e-paper reading and interaction, a new copy-and-paste metaphor, high degree of freedom 3D and 2D manipulation, and the ability to transfer content and support input between displays in a natural and flexible manner.
There have been some rumours that Microsoft may include such a novel keyboard case in the legendary Surface Phone with Microsoft Research again showing off the concept to Bloomberg recently, calling it a Display Cover.
Such a gimmick may be just what the device needs to pull in buyers. Do our readers agree?