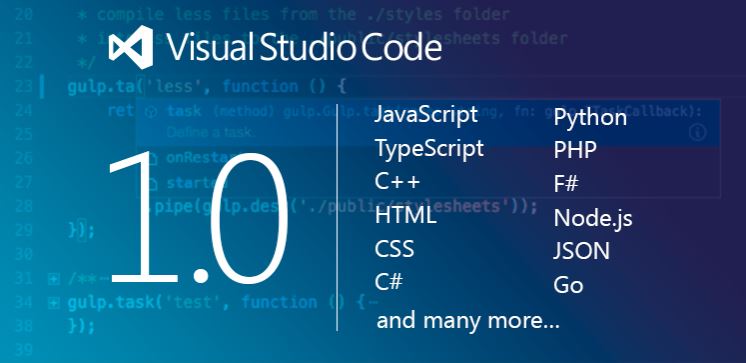 Microsoft today announced the release of Visual Studio Code 1.0. Microsoft first announced Visual Studio Code an year ago and today more than 500,000 developers actively use VS Code each month. It was initially designed for developers creating web apps using JavaScript and TypeScript. Since Visual Studio Code is extensible, the developer community has built over 1000 extensions that now provide support for most of the popular language or runtime.
VS Code is now available in 9 different languages, including French, German, Japanese, and Chinese.VS Code also comes with support for full keyboard navigation and support for screen reading and accessible navigation for visually impaired developers.
What started as an experiment to build a production quality editor using modern web technologies has blossomed into a new kind of cross-platform development tool, one that focuses on core developer productivity by centering the product on rich code editing and debugging experiences. Visual Studio Code brings the industry-leading experiences of Visual Studio to a streamlined development workflow, that can be a core part of the tool set of every developer, building any kind of application.

Getting to "1.0" over the last few months has been about more than features. We have worked with the community to further improve stability, fixing hundreds of bugs. And we've pushed hard on getting the best performance we can out of the editing experience.
You can read the history of VS Code and more details about this current 1.0 release here.