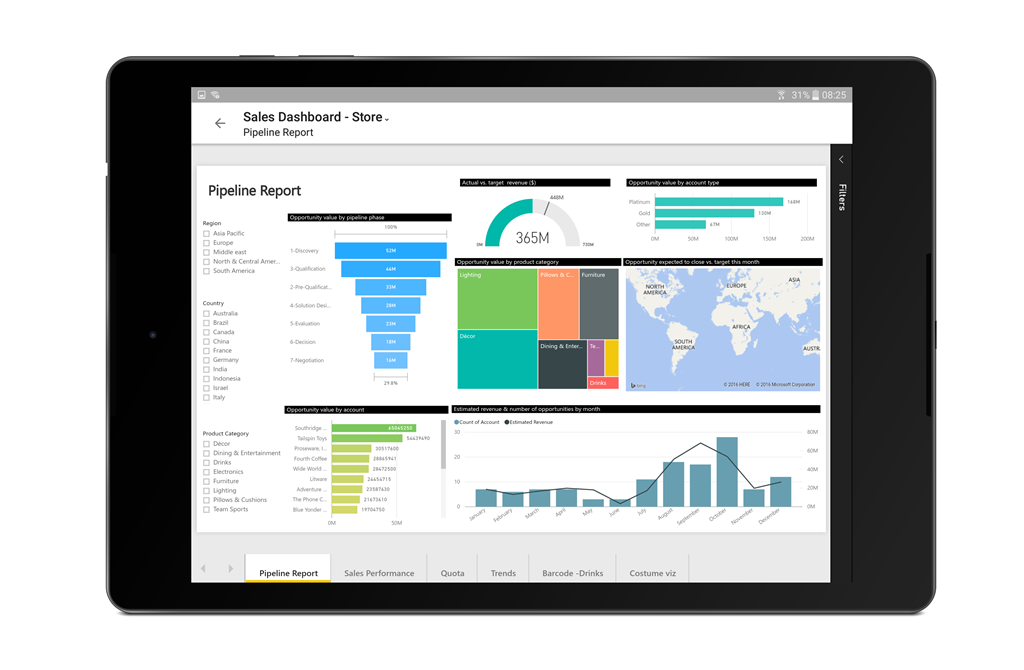 Microsoft's Power BI app has been available on Windows 10, Android and iOS for a little while now. And today, the company is releasing Power BI for Android tablets. The initial release of the app is a preview, which means that it'll have some rough edges and early issues. Power BI for Android tablets will offer a similar experience if you have previously used the Windows 10 app in your PC. However, the general look and feel of the app match Power BI on any other platform, including the Web. Here are some of the features of the app:
Familiar and consistent Power BI experience: The new app for Android tablets combines the familiar look of our Power BI apps with a touch-friendly experience designed for Android tablets. Like our other apps, dashboards and reports render beautifully and you can interact with them using touch. Within the reports, you can slice and dice your data, drill through data hierarchy, and even filter to focus on specific data.
Stay connected to your data anywhere, anytime: Set data-driven alerts to stay on top of your most important metrics directly on your tablet. Data alerts are fully synchronized across all platforms so all your alerts will now be available in your Android tablet. The Android tablet also supports offline capabilities so you can still access your data even when you're traveling or have limited connectivity.
Find what you need quickly: For quicker access to your data, you can flag your favorite dashboards right in the app. Alternatively, use search in the app to access your most recently viewed items and find other dashboards, reports, and groups available to you across the app.  You can also scan a QR codewith the scanner in Power BI on your tablet to get directly to any dashboard tile or report.
Microsoft has also released a video, where the company provided a closer look at the app:
If you own an Android tablet, you can get Power BI on it from the Google Play Store here.