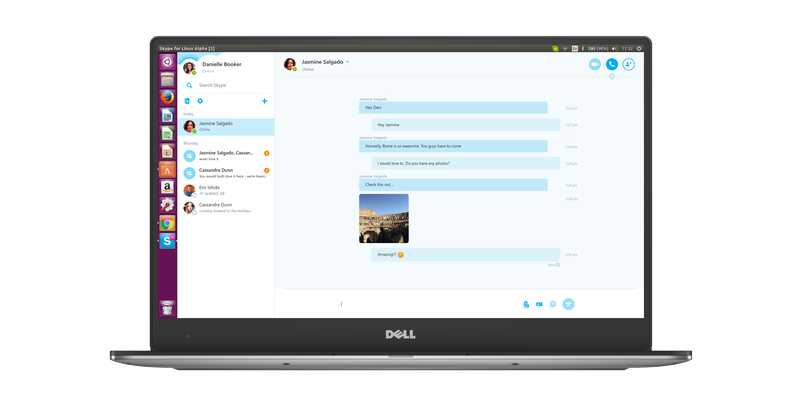 After a lot of complaints about Skype on Linux, Microsoft is finally launching a new Skype app for Linux. The company today announced an Alpha version of the new Skype app, which Linux users can download right now. The new Skype app on Linux includes all of the basic features, but it isn't a fully functional app just yet. With the new app, Microsoft has redesigned the user interface to provide a faster, and more responsive user experience which was one of the main issues with the old Skype app for Linux. Additionally, the app also features basic features such as the ability to share files, photos, videos, send emojis, etc.
It looks like Microsoft is just using Skype Web on the Linux app, which means the experience is just like what you'll get on the web — similar to Project Westminster apps on Windows 10. In a blog post, Microsoft stated:
Today, we're pleased to announce the launch of the Alpha version of a new Skype for Linux client. As you may have guessed by the name, Skype for Linux Alpha is not a fully functioning Skype client yet. We're sharing it with you now, as we want to get it in your hands as soon as possible. Once you've downloaded the app, you'll notice that it's very different from the Skype for Linux client you use today. For example, you'll be using the latest, fast and responsive Skype UI, you can share files, photos and videos and send a whole new range of new emoticons.

As we develop this new version of Skype for Linux, we need you to test, provide feedback and help us prioritize features. You will notice that with the Alpha version of Skype for Linux, which uses our next generation calling architecture, you will be able to call your friends and family on the latest versions of Skype on Windows, Mac, iOS and Android, but you won't be able to make or receive calls to and from the previous versions of Skype for Linux (4.3.0.37). Please do provide as much feedback as you can on Skype for Linux Alpha, so we can continue to improve call connections and reliability.

The company has also announced support for voice calls for Chromebook and Linux users today, which we reported last week. If you are a Linux user, you can download Skype for Linux Alpha DEB here and Skype for Linux Alpha RPM here.