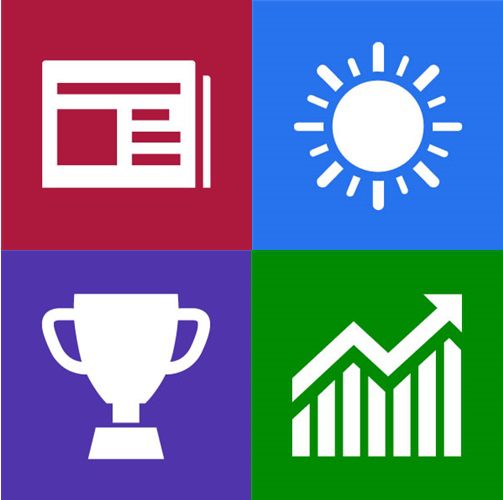 Microsoft today announced the Bing suite of apps for Windows Phone 8 devices. Similar to Windows Store, Windows Phone Store now has Bing News, Bing Sports, Bing Weather and Bing Finance App for download. These apps gives you beautiful, comprehensive and customizable experiences powered by Bing that showcase world class content from leading outlets by taking advantage of Windows Phone platform features such as Live Tiles. If you were already using these Bing apps on Windows 8 devices, these apps might look and function in a familiar manner as expected.
Download them from the links below.
Bing News, Bing Weather, Bing Sports, Bing Finance
Read about them in detail after the break.
Bing News :
Want to keep tabs on what's happening in the world? The Bing News app for Windows Phone has you covered. With the new app, you have one comprehensive experience to keep tabs on the latest headlines and videos of breaking news. And the app is customizable so you can track specific story categories, topics, or news sources that matter to you. You can even rearrange the headline clusters so that the news that matters most to you is at the top.

We've partnered with leading editorial and news agencies including Associated Press, Reuters, Gizmodo, The Guardianand more, including local and regional sources from around the world, so you can choose which sources you're most interested in – all in one app.

With Live Tiles on Windows Phone, you can see what's happening at a glance. You can also pin a favorite news source or a personal topic to your Start screen to get quick access to the news that matters most to you.

You can watch the latest news videos as they appear within the headlines, or in the dedicated video section.
Bing Sports –
The Bing Sports app is your personal sports companion letting you stay on top of the sports and teams that you care about. You can swipe through to see recent scores, top sports headlines, videos, photos, schedules, standings, statistics and much more across most major sports, including soccer, football, baseball, cricket, racing, tennis, hockey, and basketball.

Care about the NFL and more than Formula 1? Or maybe the other way around? You can personalize the experience to track the leagues and teams you follow. Tap into a specific league or team and the app color theme changes depending on the sport, such as green turf for NFL, brown dirt for MLB, grey asphalt for Formula 1 racing, etc.

Have a favorite team? For quick access to team news, scores and league standings, you can pin the team to your Start screen, and tap the tile to go straight in.

From NBA live game tracking statistics to Chinese Super League soccer results, the Bing Sports app is a one-stop shop to keep up with your favorite team.
Bing Weather–
Want to know to know whether you need to grab an umbrella? Now you can stay a step ahead of the weather with up-to-date current conditions including temperature, precipitation and wind. The Bing Weather app also dynamically updates your live tile based upon your current location . Open the app to get more detail on the present location or others you've saved as favorites.

You can follow the weather with dynamic maps for your city or region in a number of categories including satellite, temperature, precipitation, cloud cover and radar. You can also drill down in to the daily weather conditions, explore historical data and view charts for temperature and precipitation.

You can pin the app to your Start screen for instant access to today's conditions for your current location as well as your favorite cities. Once pinned, tap a location to get detailed information, including hourly and 10-day forecasts, along with monthly averages.
Bing Finance
-Keep tabs on the financial markets and gauge performance of your stocks at a glance with the Bing Finance app which includes financial news, market info, currency conversions, timely US stock updates and customizable interactive charts.

You can set up a watchlist to track your stocks and pin individual stocks to your Start screen for live tile updates.

Tap a stock in watchlist to get an overview of the stock's performance, news about the company, stock statistics and a company overview.

Looking to stay on top of breaking business news? You will see top stories arranged by topic in the Bing Finance app. Simply tap to read an article or jump straight into the latest financial news directly from your favorite source, including Bloomberg, CNBC, and Fox Business.

With a swipe of your finger you can access market information for currencies, commodities, bonds and more, plus a currency converter tool.