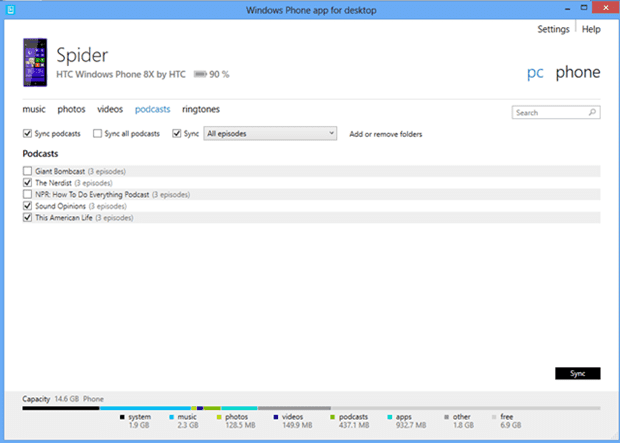 If you have not upgraded to Windows 8, or prefer to keep everything on the desktop, you can now download the final version of the Windows Phone App for Desktop, which helps you syncs music, photos, and other media between your phone and Windows PC.
A preview version of the app has been released in October last year, but the final version adds:
Expanded podcast support. Support for iTunes podcasts has been a useful feature in the preview versions of the app, but many people get their podcasts from other sources. Now, as long as your podcasts are saved in a folder, you can automatically sync them to your phone.
Simplified updates. Previous versions of the app required you to install updates from windowsphone.com. Now the app tells you when improvements are available, so you install them with a click.
Flexible library selection. To provide more flexibility, the app can now sync files from any library or folder on your computer, even if they're on an external hard drive.
Many bug fixes. We've rolled up your feedback on the preview versions and made fixes to improve performance.
The app can be downloaded here.