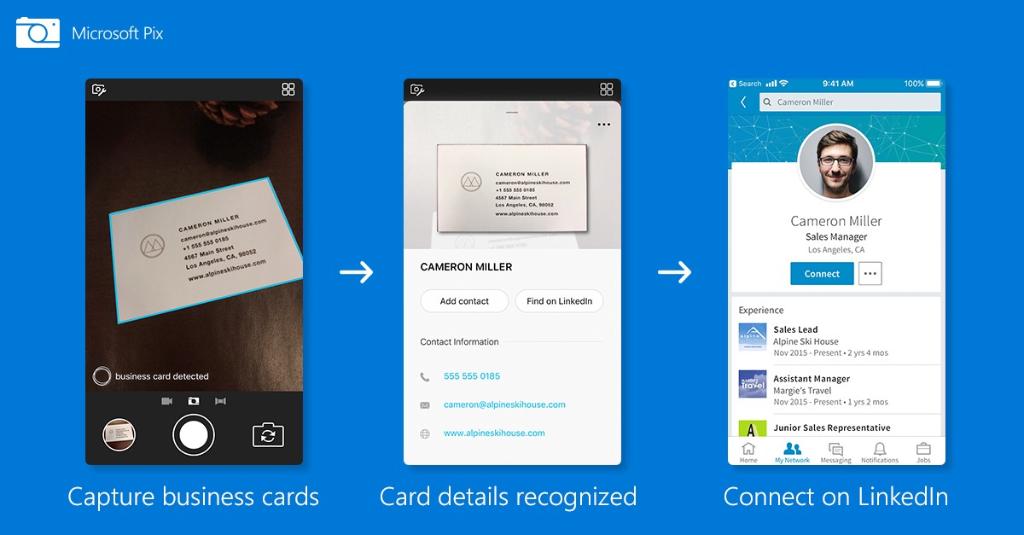 Microsoft today released a new update for their Pix intelligent Camera app for iPhone. This new update comes with a brand-new Business Card feature that will allow users to scan a business card and easily add that information not only on their iPhone's address book but also as a contact in LinkedIn. To use this feature, users have to just open Pix app and point their iPhone at a contact's business card. Pix app will automatically detect the card and ask them whether they would like to take action. After capturing, Pix app will recognize numbers, email addresses and URLs in the physical card.
"Pix is powered by AI to streamline and enhance the experience of taking a picture with a series of intelligent actions: recognizing the subject of a photo, inferring users' intent and capturing the best quality picture," said Josh Weisberg, Principal Program Manager at Microsoft Research in Redmond, Washington. "It's the combination of both understanding and intelligently acting on a users' intent that sets Pix apart. Today's update works with LinkedIn to add yet another intelligent dimension to Pix's capabilities."
Download the app here from App Store.