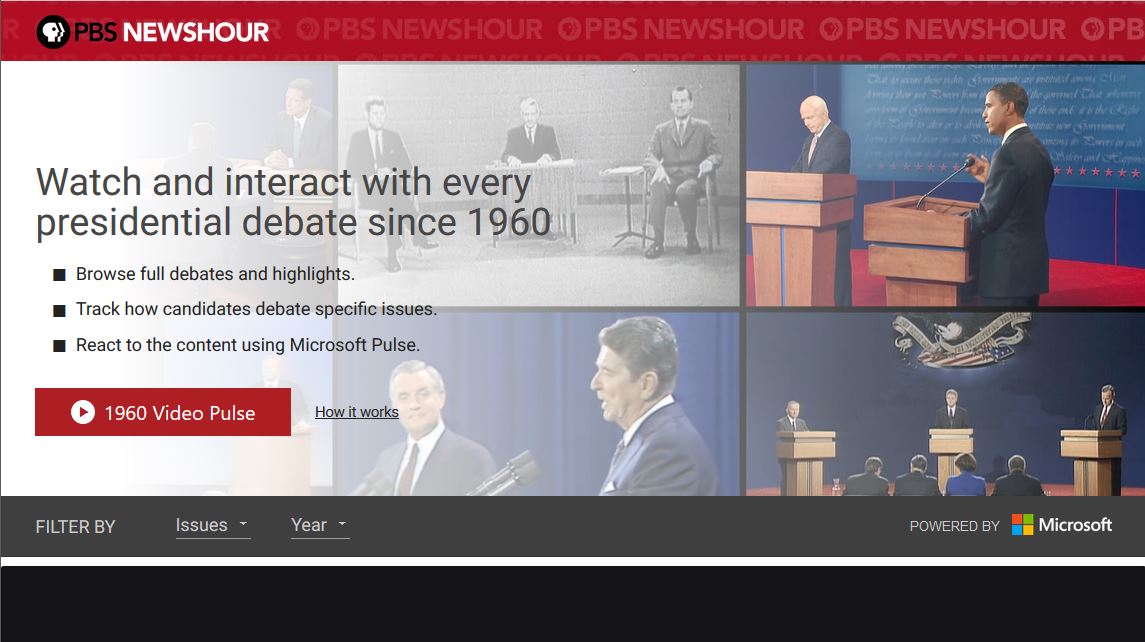 To mark the start of the 2016 US presidential election debates in the US, Microsoft and PBS NewsHour have partnered to launch WatchTheDebates.org, an interactive civic education and voter engagement site that provides access to every general election debate since 1960. This new site allows visitors to screen entire debates and highlights, track how specific issues over the years, and interact with the content using Microsoft Pulse online voting tool.
"Fifty-six years ago, John F. Kennedy and Richard Nixon participated in the first televised general election debate.  The black and white footage of these historic conversations provides the first chapter in the wonderful tutorial that the PBS NewsHour and Microsoft have crafted," said Janet Brown, Executive Director of the Commission for Presidential Debates. "WatchTheDebates.org invites those new to presidential debates and those who have watched them for many cycles to learn about candidates and issues, connect presidential elections over time, and participate in an online conversation via Microsoft Pulse. We are grateful to PBS NewsHour and Microsoft for using modern technology to bring television history to the 2016 debates."
WatchTheDebates.org features:
Livestreams of the four 2016 general election debates
Full debate footage from 39 previously broadcast debates
Online rating and audience engagement of previous and this year's debates, powered by Microsoft Pulse
Highlight reels of memorable moments from all televised debates between 1960-2016
Issue-based reels looking at the evolution of key policy and political issues through the years
"Microsoft believes technology has great potential to improve citizens' engagement in the democratic process. We are excited to have helped create WatchTheDebates.org to provide a platform for citizens to become more informed about past and present presidential debates and relevant information around key issues," said Dan'l Lewin, Corporate Vice President for Technology and Civic Engagement at Microsoft. Learn more about Microsoft Pulse here.