Is Copilot the best AI companion out there? Help us find out by answering a couple of quick questions!
Interbrand yesterday released its 2020 Best Global Brands ranking. Microsoft's brand value grew 53% compared to last year. Microsoft's increase in value this year (US$166B) means it has overtaken Google (#4) to reach the number 3 spot. Apple retained its top spot in the table and Amazon came second with $200 brand value.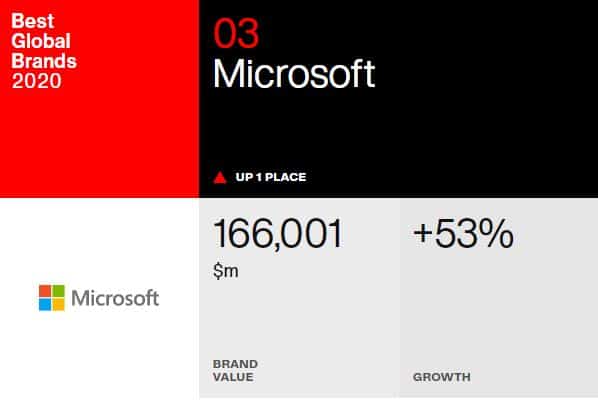 The overall value of the table has increased to US$2,336,491m (up 9% from 2019). Driving growth of the table is big tech. Average brand value growth among all growing brands was 14%. Average growth of technology and tech platform brands was 20%. Technology and tech platform brands now represent 48% of total table value versus only 17% in 2010. The top 3 brands in the table (all tech) represent 30% of the value of the entire table versus only 16% in 2010.
Source: Microsoft