Microsoft announces the next generation of OneDrive with Copilot, offline mode, improved search and more
5 min. read
Updated October 3rd, 2023
Published October 3rd, 2023
---
Readers help support MSPoweruser. When you make a purchase using links on our site, we may earn an affiliate commission.
Read the affiliate disclosure page to find out how can you help MSPoweruser effortlessly and without spending any money. Read more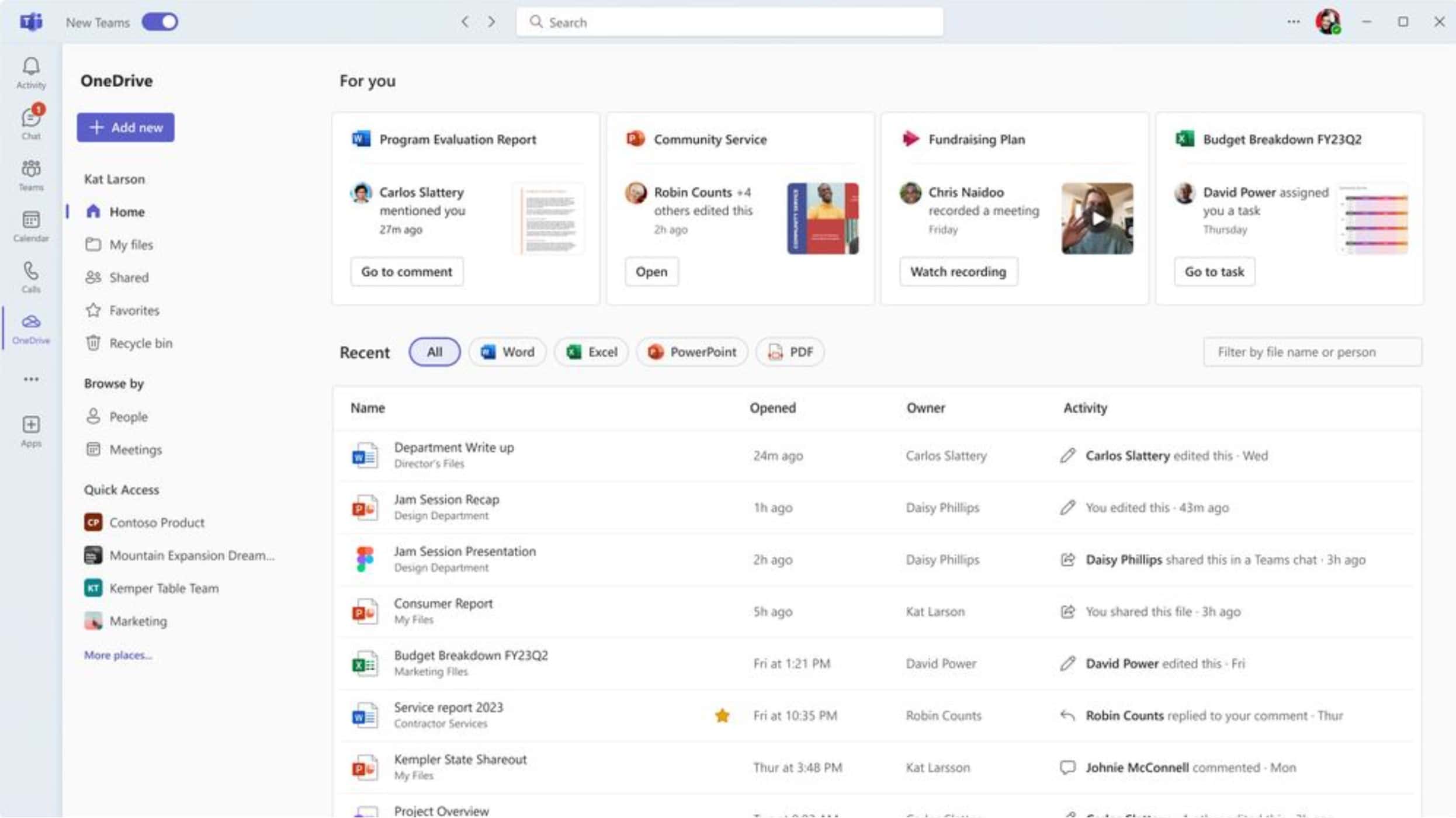 Today, Microsoft announced the next generation OneDrive experience with several new capabilities including new file views, Copilot, offline more, improved search, advanced governance features and more.
The core part of the next generation OneDrive experience is the new Home page that allows you to easily access the files that matter most to you. Microsoft is also adding the following file management capabilities to OneDrive.
For you: This section, at the top of the OneDrive home page, surfaces AI-powered file recommendations to you at the right time, so you have what you need at your fingertips
Meetings view: The Meetings view shows your upcoming and past meetings along with meeting recordings and shared files. Whether these files were shared in chat or the meeting invite, you'll find them all here.
People view: Sometimes you don't remember the name of a file, but you do remember the person who shared with you. Context is vital when looking for the right file. The People view organizes your files by the people you work with.
Shared view: Any file that's been shared with you, regardless of how it was shared or who shared it, now shows up in the Shared view. It's your go to spot to get back to all the files you are collaborating on.
Colorful folders: Express yourself by choosing the color of your folders and stay organized your way.
Favorites: Keeping track of important files is now easier with Favorites. You can mark any file as a favorite and access it from your Favorites list across OneDrive, Teams, File Explorer, Microsoft 365 apps, and more.
Shortcuts: For quick access to files shared with you or residing in shared team locations, just create a shortcut to them in your OneDrive. This simplifies collecting files for projects, regardless of their original location.
Simplified sharing: Sharing files and copying links is now the most user-friendly it's ever been, and there's less clicks involved.
The above features were announced over the last few months, and they are available to more OneDrive users today. Today, Microsoft announced new capabilities that are coming soon to OneDrive, read about them below.
Open in app: In the same way that you can open a Word, PowerPoint or Excel file in their respective desktop apps, soon you'll be able to open any file in its desktop app, edit it, and changes will sync to OneDrive. This feature will be available worldwide by December.
OneDrive in Teams: This December, Microsoft is updating the Files app in Teams with the new OneDrive Teams app that will offer all the recent updates made to OneDrive and SharePoint library experiences.
OneDrive in Outlook: The OneDrive app will be added in the left navigation of the new Outlook for Windows and Outlook on the web. OneDrive will become available in Outlook by December.
Files On-Demand for Web: Microsoft is extending sync to the browser experience. When you want files and folders available for offline access on your device, just select them to be always available locally directly from OneDrive for Web. This feature will become available worldwide in early 2024.
Offline mode: All of the changes you make offline in the browser will be automatically synced back to OneDrive when your Internet connection is restored. Also, you will be able to launch OneDrive in your browser to view, sort, rename, move, copy, and delete files without internet access. OneDrive offline mode will become available worldwide in early 2024.
Add new: When you are ready to create a new file without leaving OneDrive just tap the "Add new" button. This feature will be available in Summer of 2024.
Media view: This new view will organize all your images, videos, and media in one place, and it lets you visually browse your content. Media view will become available in the Summer of 2024.
Copilot in OneDrive: Copilot is coming to SharePoint and OneDrive. So, you can ask questions related to an individual file or get a summary of the content. And you can do this without opening the file. Copilot in OneDrive will become available by December for all customers who have a Microsoft 365 Copilot license.
Improved Search: A new feature that will let you search or browse photos based on people in them. With your permission, OneDrive can find photos based on the names you give to the people in your photos.
Search your photos using natural language: You can type what you are looking for and OneDrive will find it. This search goes far beyond object recognition, you can ask it to find specific places, settings, objects, and people all in one search. The AI search features are rolling out to consumers, in limited preview, beginning this month on OneDrive for Web and on the OneDrive Mobile app. This feature will enter public preview early in 2024.
You can learn more about other OneDrive improvements here.