Microsoft is working on reducing the size of monthly Windows updates. The Redmond giant disclosed the details in a blog post on Tech Community. Microsoft, however, didn't disclose the name for the monthly updates but it might start with RS5 release.
Right now Microsoft doesn't release new features with the monthly updates. Instead, they release security patches and bug fixes but this might change in the future. Microsoft also releases cumulative updates almost every month which contain all the updates previous updates. This results in the increase in update size over time. This poses a problem for both individuals and organizations who have bandwidth limitations. Microsoft explains in detail the concept of delta updates which increases the size of the update significantly. This is why, starting Feb 12, 2019, Microsoft will end delta updates for all versions of Windows 10.
For down-level supported versions of Windows 10, Microsoft will continue to provide express updates in addition to a full update (also referred to as a latest cumulative update, or LCU) each month. Starting with the next major version of Windows 10 and Windows Server; however, there will be only one quality update type—and it will be smaller in size, redistributable, and simpler to manage. This new, single update approach offers benefits over the three existing update types (full, delta, and express):

Organizations that get full updates from Windows Server Update Services (WSUS) or from the Microsoft Update Catalog will seamlessly save network bandwidth thanks to the smaller size of the update.
Organizations that have been using delta updates to manage the size of quality updates will no longer have to monitor the update status and history of their devices to determine which devices are eligible for delta updates.
Since this new quality update package will be redistributable, organizations that utilize express updates via WSUS, System Center Configuration Manager (SCCM), or a third-party management solution that supports express updates will experience enormous savings in network bandwidth and cache size on their distribution points or update servers. In addition, devices with the next major version of Windows 10 will be 40% more efficient* while updating since there will be no behind-the-scenes computing of the optimal differentials required to download express updates.
Basically, Microsoft hopes to reduce the size of the updates by 40% when compared to Express updates. Microsoft included a chart to show the comparison in sizes. You can head down to take a look at the chart.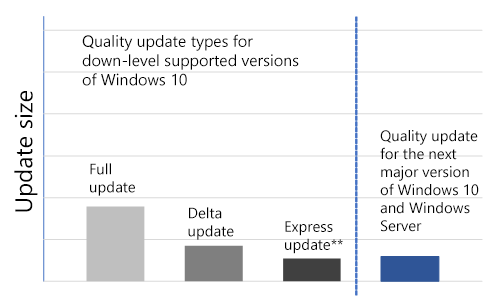 Microsoft has been working on reducing the size since the release of Windows 10. With the latest initiative, Microsoft plans to further help users conserve bandwidth especially in developing countries.
Source: Microsoft; Via: Redmond Mag