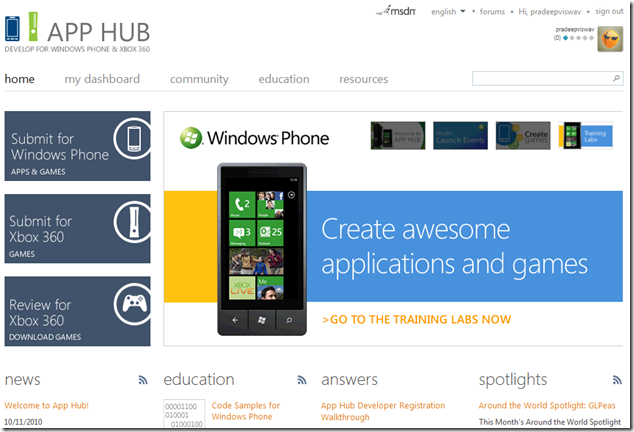 Microsoft unveiled their new developer website, App Hub, http://create.msdn.com. Here are some info on App Hub as mentioned in Microsoft's Blog.
App Hub is now the single place where Windows Phone and Xbox LIVE Indie Games developers can register; find development tools, support and resources; and submit and manage their apps for Windows Phone and Xbox LIVE.
The biggest change with App Hub is that with one single $99 USD annual subscription, (still free to DreamSpark students,) you can now submit apps and games through your dashboard for both the Windows Phone Marketplace and the Xbox LIVE Marketplace.
Request early access to the Marketplace submission process by emailing

[email protected]

. Please include your app title, a description of 75 words or less, and an optional link to a video or blog description of it. We will accept complete requests on a first come, first served basis between today and October 13th 12:00pm PST.Else in November all developers will have access to submit applications.