Microsoft hints at wearables coming next year
3 min. read
Updated November 23rd, 2013
Published November 23rd, 2013
---
Readers help support MSPoweruser. When you make a purchase using links on our site, we may earn an affiliate commission.
Read the affiliate disclosure page to find out how can you help MSPoweruser effortlessly and without spending any money. Read more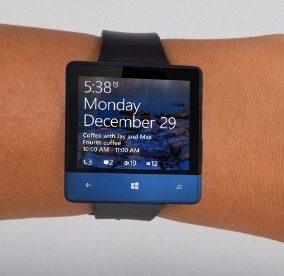 Speaking at the UBS Global Technology Summit recently, Microsoft devices and services chief Larson-Green hinted that we could see some wearable devices from Microsoft in 2014.
"For my lifetime, there will desktop computers where people are doing precision movements with the mouse, which are highly tuned for productivity and typing — as well as maybe something on your wrist or on your head or something in your pocket where you will want to interact. You'll want to see your emails, get notifications, get access to the information you need to do your job as well as interact with friends and family."
"Devices that are going to be in your home or on your body, services where you can get access to all the information and data you care about. The people, the documents, the entertainment, all the things in your life from whatever device is most convenient for you at the time."
Microsoft's vision is based on ubiquitous computing, where we are not only surrounded by devices, but by devices that know us and try and help us.
She thinks the next step is the magic that happens when you bring together sensors that you wear or walk past, combining information from apps that can connect to each other and natural interfaces.
"From telling you didn't quite do your pushup as far down as you could go, or your heart rate is too high, you're stressed out, take a  deep breath or letting you know when your bus is running late — there are lot of things we can do bringing those together in a new way of thinking about how people interact tech. Just as the mouse was an innovation and touch was an innovation, there will be a next new way to interact."
That device could be using your phone for multi-factor authentication and single sign-on through Azure Active Directory, or it could be you walking up to your Xbox and having it show you your calendar. "If you want it to," she added. "It's about permeating technology through your life and making it available to you. We're really focused on having  devices integrated in your life, in whatever way you want it integrated."
While we have seen such pie in the sky ideas from Microsoft before, the company seem more determined now to bring their visions to reality.
"We have all the elements," she said. "We have an OS that scales from mobile devices to giant screens in your living room, up to a server, and we have the power that gives developers and IT professionals to manage those devices and to give information out to people in your business, no matter where they are. We have a great platform for building on top of those devices."
She noted after the massive re-org recently the company's divisions were working better together.
"We are working together on plans, we have a shared vision, we have a shared roadmap — and we have individual teams working on cross team scenarios. We meet weekly as the leadership team to checkpoint where we're at and where we want to go and what challenges we have."
She hinted that we could see results as soon as next year, saying  "next year you'll start to see lots of exciting things."
Do our readers think Microsoft, bolstered by Nokia's expertise can pull it off? Let us know below.
Via Citeworld.com