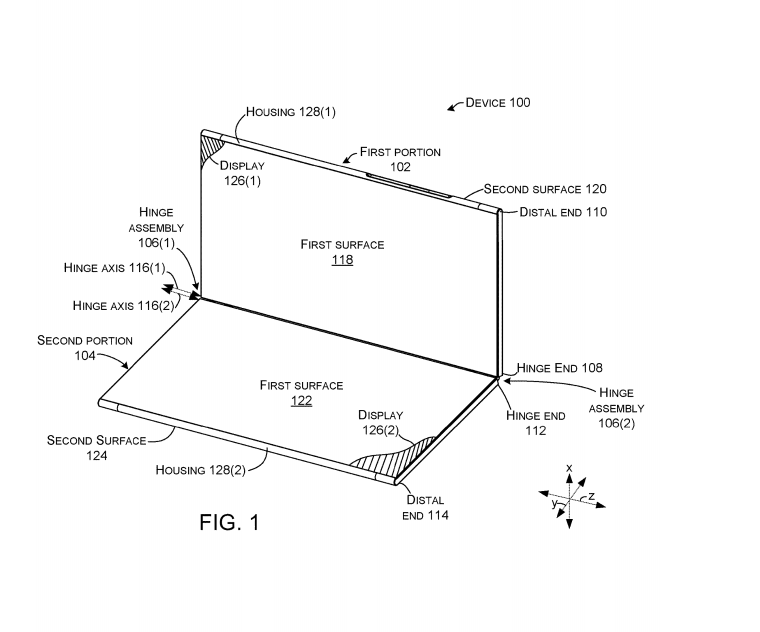 Microsoft has filed another patent for the possible Andromeda device. The new patent shows a foldable device that uses a hinge mechanism to fold in half.
The patent titled "HINGED DEVICE" was filed by Microsoft in August 2017 and was published by the USPTO today. The patent shows a hinge mechanism to fold the device and has a lock which pops open when touching the lock button.
The description relates to hinged devices, such as hinged computing devices. One example can include a first portion and a second portion that have hinge ends rotatably secured relative to a hinge shaft. The example can also include a u-shaped friction arm extending from a first end positioned around the hinge shaft to a second end positioned around the hinge shaft and a pop-up assembly positioned along the hinge shaft between the first end and the second end and configured to create a bias to rotate the first and second portions away from one another.

– Microsoft
We have noted time and again that patents don't usually mean that the device will launch but it would be cool to have this design implemented in Andromeda. Microsoft has been working on the foldable device for a long time now but has never acknowledged it. If you're interested in the patent then you can read more on FPO or check out the full patent.
Via: Twitter (WalkingCat)