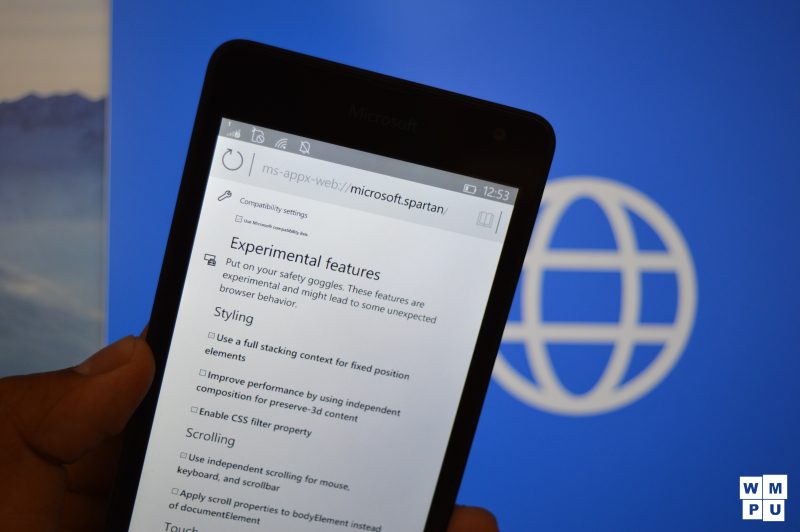 Microsoft recently released Windows 10 Mobile Build 10080 to Insiders. The latest build includes a handful of new additions, such as the new Xbox app and others. As you may expect, Microsoft has added some new features to its upcoming browser, Microsoft Edge (currently called Project Spartan). So what's new?
At the Microsoft Edge Web Summit, Microsoft confirmed that the Edge browser will be the default browser on Windows 10 Mobile. And now, with Build 10080, Edge is now the default web browser on mobile – for example if you open a link on an app, it'll open up on Edge. Previously, it'd open the link on Internet Explorer. Keep in mind that, some apps might still open links on Internet Explorer on Build 10080 as the developers probably need to tweak some code of the app to open links on Edge.
Alongside this, Microsoft has also added a new feature to Edge – the ability to turn on/off experimental features. For those unfamiliar with the Experimental Features option, it's basically a hidden settings page to turn on/off some experimental (under-development) features. Edge currently includes a couple of experimental features – such as the ability to turn on CSS filter property, touch events support, HTML5 Date and Time input types, and others. Alongside these experimental features, Edge also has the ability to turn on/off JavaScript experimental features and "asm.js". For those who don't know, you can access the Experimental Features page by going navigating to about:flags on Edge.
Microsoft has also added a much-needed feature to Edge – a Download Manager. You can now see the downloading files from the Hub of Edge and check download history as well.
Here are a couple of screenshots of the new Download manager and Experimental Features on Edge:
Just like most of the other features on Windows 10 Mobile, Edge is under development and it'll improve over the coming months. Until then, tell us what you think of Microsoft Edge on mobile in the comment section below!
Thanks, Vitor for the tip!