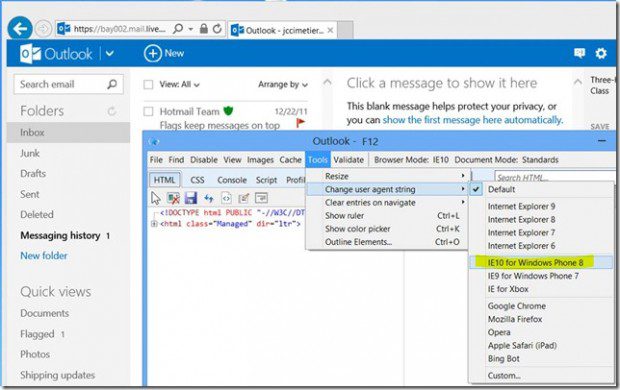 Microsoft Windows Phone team today detailed on optimizing websites for Internet Explorer 10 On Windows Phone 8. The UA string was updated as you can see below.
The UA string of Internet Explorer 10 on Windows Phone 8 will look like the following:

Mozilla/5.0 (compatible; MSIE 10.0; Windows Phone 8.0; Trident/6.0; ARM; Touch; IEMobile/10.0; <Manufacturer>; <Device> [;<Operator>])

As you'd expect, the UA is mostly a continued evolution of the IE9 on Windows Phone 7.5 UA string, and it also aligns with IE10 on Windows. A couple of notes of interest:

The Platform token is now Windows Phone instead of Windows Phone OS.
The ARM and Touch tokens have been added, to align with the latest updates to the Internet Explorer 10 on Windows UA string.
Windows Phone 8 shares the same Internet Explorer 10 engine with Windows 8, so web masters and developers can test their website for Windows Phone 8 using the developers tools in IE10 browser on Windows 8.
Source: Windows team blog