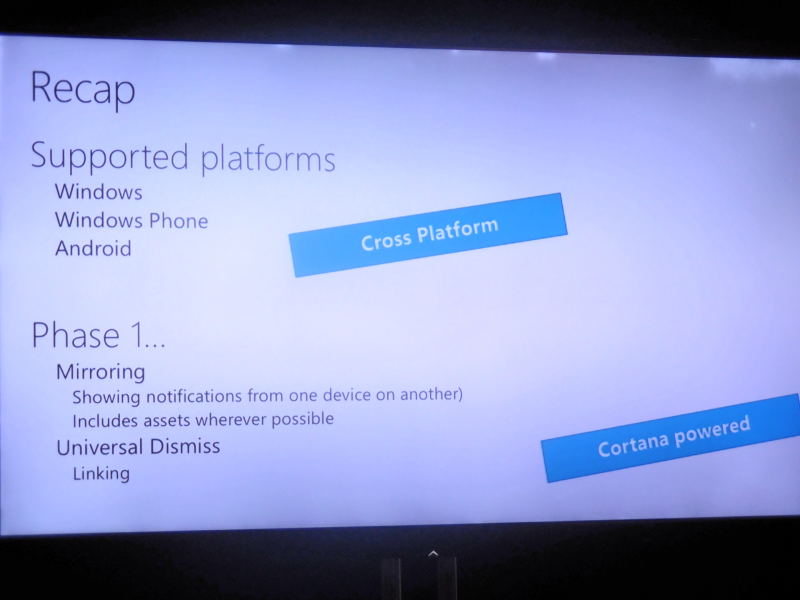 Today at BUILD Microsoft showed off its improved notification features with Action Center in the Cloud, a means of sharing notifications between devices with the same Microsoft account. Threshold already introduced us to this concept with Cortana alerting you on your PC of missed calls from your phone, but Microsoft is taking it a step further with Action Center in the Cloud.
Gone are the days of receiving the same notification on your phone and PC, and having to dismiss them individually. With the new Universal Dismiss, as long as your phone and PC have the same app, one swipe on either device will remove the notification from any devices that it shows up on. This is in addition to Notification Mirroring, which will mirror phone notifications on any Windows 10 pc, regardless of whether that Windows 10 device has the source app for the particular notification. This feature will be integrated with Windows 10 mobile (again as long as the phone and PC has the same MSA), and the Cortana app will bring this feature to Android.
These features are expected in a future Windows 10 insider build, with the demos being previewed on Build 14304. While Notification Mirroring is coming soon to both W10M and Android, W10M is the only one set to get Universal Dismiss, as the team is still working on Android support for that feature. As far as iOS, the team expressed interest in bringing the functionality over to the platform, but stated that with the OS being so "closed", it was difficult to make that happen.
In addition the team talked about refinung the UI in the Action Center, and allowing more content in notifications (i.e profile pictures, multimedia content, maybe even widgets). This was in addition to a new mute button (for notifications that you would like to temporarily turn off) and a "Get app" button, which would allow a PC that doesnt have the source application that sent the notification to get the application from the Windows Store if available. With so many features coming to the Action Center, and a UI change, are our readers excited for the future of W10M? Check out the image below for a picture taken from the Action Center presentation.