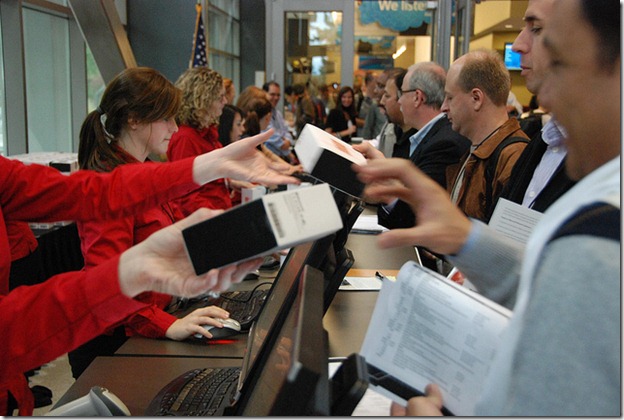 Picture via Istartedsomething.com
Microsoft has confirmed to Networkworld rumours that the giant software company will be giving Windows Phone 7 handsets to all their employees.
"Every Microsoft employee will be getting a Windows Phone 7 phone," says Guy Gilbert, Senior Product Manager at Microsoft, in an interview with NetworkWorld.
Microsoft currently has around 89,000 employees, meaning the roll-out will be rather massive, and the cost likely close to the $50 million dollar mark.
Gilbert admitted at present not everyone at Microsoft uses a Windows Mobile device, but went on to say "… a lot of people use Windows phones, prior or current. Everybody's very excited about the fact that they're going to get a Windows Phone 7."
Microsoft yesterday gave away around 1,000 LG Optimus 7 smartphones to PDC attendees (pictured above), and also confirmed the company was extremely committed to the success of the operating system.
Read more at Networkworld.com here.