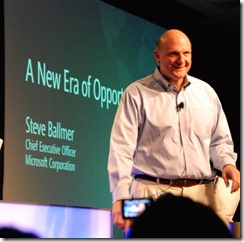 Microsoft have announced a 25% increase in revenue and 51% increase in profit for its Q1 2011.
Net income skyrocketed from $3.57 billion in Q1FY10 to $5.41 billion in the quarter ended Sept. 30 and quarterly revenue rose by 25 percent over the year-ago period to $16.2 billion, up from $12.9 billion in Q1 FY10.
Earnings per share were 62 cents, much exceeding the Wall Street consensus estimate of 55 cents. There had been speculation Microsoft's earnings would be affected by iPad success depressing netbook sales.
The Entertainment and Devices Division, which includes Xbox and Windows Phone, reported quarterly revenue of nearly $1.8 billion — up 27 percent from a year ago, and profits of $382 million, up from $260 million during Q1 FY10.
At PDC an animated Microsoft CEO Steve Ballmer insisted Microsoft was committed to Windows phone 7.
"Make no mistake about it, when it comes to Windows Phone, we're all in," he said, dispelling notions that the company might abandon the product if it does not have immediate success, like it did the KIN.  He said the company will continue to push forward. "Boom, baby, that's what we're going to continue to do."
Clearly proud of efforts so far, he went on to say "I think we really kinda nailed it,"
He also committed to continuing its publicity push for the new OS, saying Microsoft would "pump and thump" to promote the phones.
It has been speculated that Microsoft intends to spend $500 million promoting Windows Phone 7, and the company clearly has the resources to manage this without breaking much of a sweat.
Picture via Long Zheng's twitter feed.