A new study recently found that Microsoft Cloud is most energy-efficient and carbon efficient in comparison to other companies. The results were published by Microsoft in a blog post yesterday which shows Microsoft Cloud services are up to 93% more energy efficient and up to 98% more carbon efficient than traditional enterprise datacenters.
In the recent years, organizations have been giving extra care to how resources are managed and companies have been trying hard to reduce their carbon footprint. Other companies like Google and Facebook are trying to use renewable energy to make sure they're self-sufficient and are sustainable as well.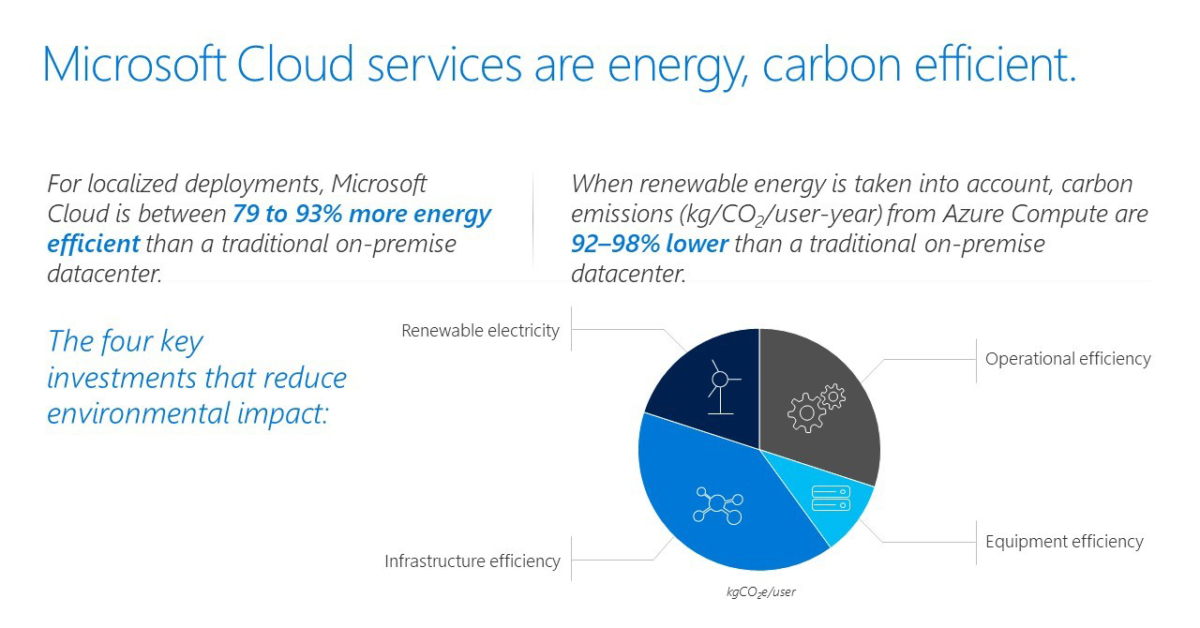 The numbers also show that if just 20% of the existing U.S. on-premises market moved to the Microsoft Cloud, it would be equivalent to reducing the city-wide emissions of Seattle, Washington or Torino, Italy.
We're excited about the results, but we know there is much more work to do. This report compares us only against on-premises solutions. In many circles, the advantages of the cloud versus on-premises datacenters have already been settled and there are not as many on-premises-only solutions in 2018 as there were in 2010. But the shift is far from over – Cisco estimates that cloud services could account for as much as 95 percent of datacenter traffic in three years' time, and that will be powered by double the amount of hyperscale datacenters around the globe.
Microsoft also stretched on the fact that they're working hard to make sure Microsoft Cloud doesn't harm the environment and the company promises more changes in the years to come.
The global cloud we are building is part of our lasting legacy as Microsoft. It's an obligation to operate responsibly, including delivering more efficient and sustainable cloud offerings to our customers, who increasingly expect to trust the environmental performance of their cloud provider. We really see this as an opportunity for Microsoft to use our scale and buying power to drive change in our operations and beyond.
Source: Microsoft