Microsoft has updated their Microsoft by the Numbers site, and have revealed some new data about the company's efforts, including a new number for the amount of apps in the Windows Store.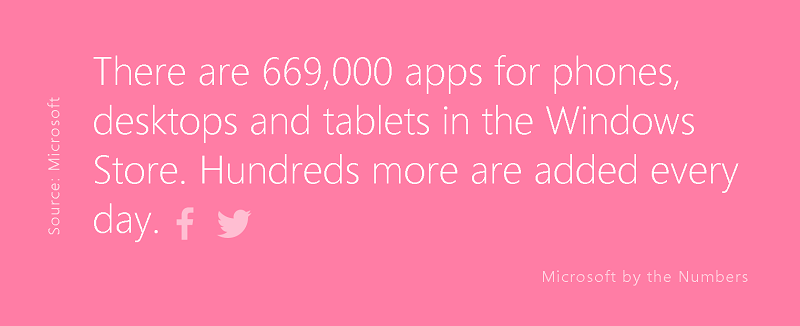 According to Microsoft there are now more than 669,000 apps in the Windows Store for phones, desktop and tablets. The actual number available for phones and PCs is of course a lot less than this, but as the platforms converge apps into universal apps the number is becoming increasingly representative of what Windows Phone users can expect when they search the store.
Of course absolute numbers do not tell the whole story, with the quality of apps still a major issue in the store. Compared to other platforms Windows Store is around 50% of the iOS and Android store (1.5 and 1.6 million) which is an improvement on the previous ratios.
According to Microsoft their Windows 10 Universal Apps strategy is working, and we look forward to the day when apps will no longer be an issue for our store.
Source
Via