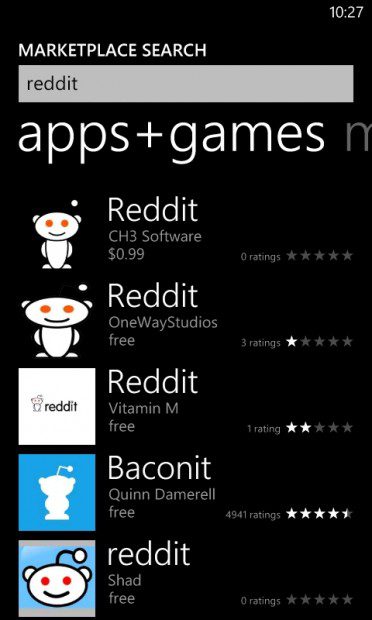 If you've searched in the Marketplace recently, you'll notice that the results have completely changed. I believe they drastically changed for the worse, and I'm sure tons of other developers and users will agree. Developers, voice your frustration HERE.
Try searching for "Reddit" right now, and see how terrible the results are. Typically, you would first get Baconit and then Instant Reddit, the two best and most downloaded Reddit clients for Windows Phone. But now, the list is populated by apps people never even use. The first result has zero ratings and is ranked 41,822 by WP7AppList… meaning that it's the 41,000th most popular app out of the 100,000+ apps on the Marketplace.
Whereas Baconit is ranked the 494th most popular app on Windows Phone. It also has 4,941 ratings and a 4.5 star average. Yet it is placed 4th, behind things that are nearly never downloaded and have no ratings or awful ratings.
I first noticed this issue for my own app, Power Planner. I worked hard climbing to the top of the search results, and I finally got there half a year ago. But now, after Microsoft made their changes, the results all went to crap.
| | |
| --- | --- |
| | |
| Search results 5 months ago… | The current, awful search results |
The paid version of Power Planner used to be on the top of the search results, followed by "Homework Planner" (no clue how he ever stayed up there, he hasn't had a new review for 8 months), and then followed by my free version of Power Planner (note: image on the left was taken before free version was released).
Now, the most downloaded homework planner, the paid version of Power Planner, can't even be found on the first view of search results. The free version is stuck below something called "Homework_Master, which once again has zero ratings and is ranked 11,815 by WP7applist compared to 1,061 for Power Planner's free version and 1,435 for Power Planner's paid version.
Power Planner's paid version also has 268 reviews and a 5 star average, while every other app before it has either zero reviews or a 3.5 star average or lower.
Are any other developers outraged about these awful new changes to the search results? It seems Microsoft put a large emphasis on searching for the app's title first, then keywords. Microsoft obviously failed to realize that some of the best apps have unique names. As an end user, I'm also upset since it's going to be way tougher to find the good apps when searching (search results were always poor in the first place, I never thought it could get worse!).