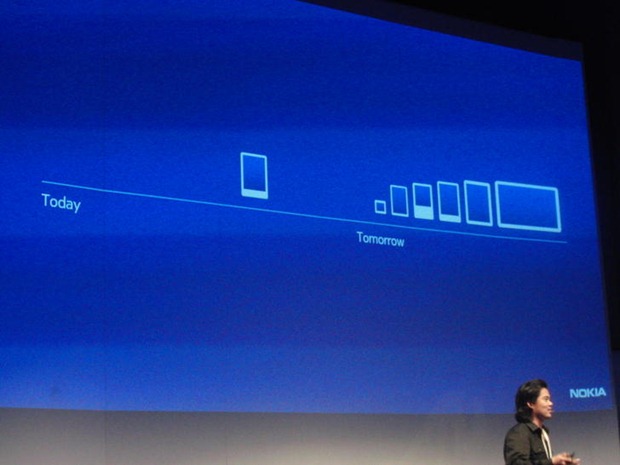 At the the Goldman Sachs Technology and Internet Conference during a Q&A session on February 13 Microsoft Chief Financial Officer Peter Klein told attendees that Microsoft was ready to respond to the direction the market was moving when it came to form factors.
When asked about Microsoft's plans to address the tablet and phone market with device form factors ranging from 4 inches to 13 inches and beyond he said:
"We've done a lot of the hard work in the developer platform," Klein said. "We are well set up to respond to demand as we see it."
Currently the mobile Windows line-up has a massive gap between 4.8 inch and 10 inch screen sizes, currently filled on Android and iOS by phablets and 7 inch tablets.
Klein said applications can scale up and down based on form factors, and the company was well set up to deliver a versatile set of experience across form factors, and specifically mentioned 5 inch and 7 and 8 inch screen sizes.
He also mentioned a variety of price points, which will hopefully open the way for cheaper Windows 8 tablets.
He also mentioned the unified kernel between Windows Phone 8 and Windows 8, and said the company is evolving the underlying application programming interfaces (APIs) that will enable developers of these apps and services to get closer to cross-platform nirvana.
"We are getting closer and closer every day to write once and run anywhere," Klein said.
Microsoft has already made it clear in a job posting that they aimed to get Windows Phone applications to run on Windows tablets and vice versa, writing:
"(T)he code you write for Windows Store apps would just work on the Windows Phone and vice versa."
Windows Phone 8 does not currently support 1080p displays as found on many cutting edge phablets these days, a deficiency which Microsoft will hopefully rapidly address.
Are our readers ready for the clearly coming Windows Phablets? Let us know below.
Via CNET.com