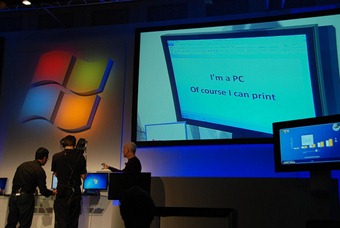 Microsoft has announced they have ported the full desktop Windows OS to ARM chipsets, hoping to create smaller, thinner, cheaper and more reliable Windows devices with better battery life, suitable for tablets and slates.
At a press conference Microsoft demonstrated the next version of Windows running on new SoC platforms from Intel running on x86 architecture and from NVIDIA, Qualcomm and Texas Instruments on ARM architecture. The technology demonstration included Windows client support across a range of scenarios, such as hardware-accelerated graphics and media playback, hardware-accelerated Web browsing with the latest Microsoft Internet Explorer, USB device support, printing and other features customers have come to expect from their computing experience.
While Microsoft touts the new technology as a demonstration of desktop Windows flexibility and resilience in a changing computing world, it seems Microsoft has largely missed the point of the new mobility revolution – its not about the OS, its about the user interface, of the OS and the applications.
Microsoft showed of a full version of Microsoft Word printing from the new ARM-based OS, demonstrating printer drivers working with the ARM instruction set. The demo was more a demonstration of last century thinking – in 2010 printing may be one of the least important features of a mobile device, and iPads can print in any case.
While Qualcomm, Nvidia and TI may be very excited in possibly supplanting Intel in the future, I would personally have been much more excited by a new user interface showing tasks mobile users want to do in real life, while walking or standing, not sitting at a desk working.
Showing that Microsoft are still driven by engineers rather than designers, Microsoft's Sinofsky said in response to a question:
I don't think there's anything particularly uniquely challenging of designing a touch interface? We just want to make sure we do a good job designing this for these form factors.
The question is of course why we need full windows, with all its sub-systems, on mobile devices. Â Why do we need to connect to printers? Why should we be able to run legacy apps without touch-optimised user interfaces?
The truth is that tablets are companion devices, and do not need the Windows desktop legacy, which only bring negatives. That is truly missing the point and the opportunity to start over- right.
See Microsoft's press release here.
Photo from Long Zheng's Flickr stream.