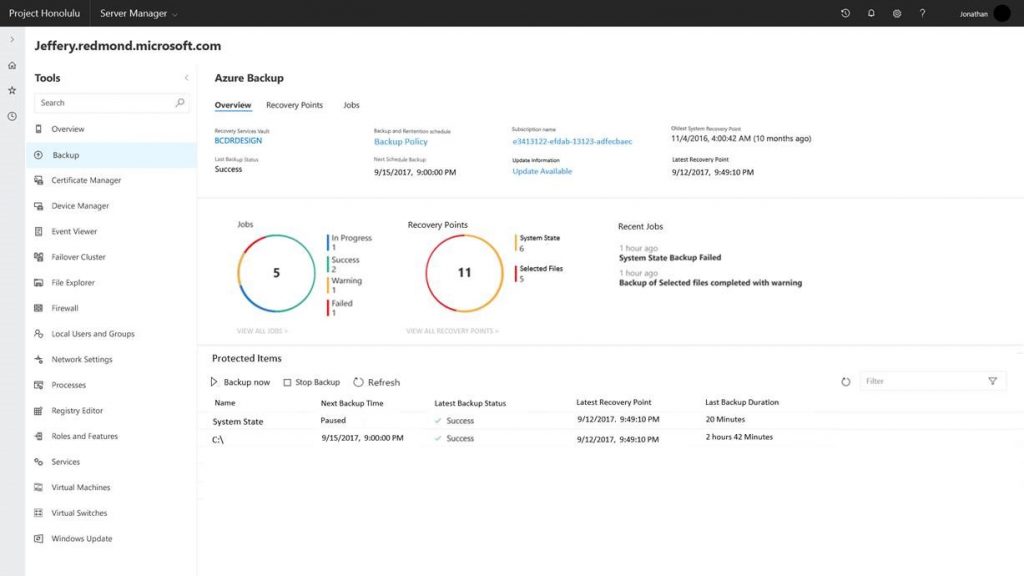 Microsoft today announced that the next major version of Windows Server will be called Windows Server 2019 and it will be generally available in the second half of calendar year 2018. Microsoft also mentioned that Windows Server 2019 will be the next release in their Long-Term Servicing Channel. Windows Server 2019 will offer enhanced security, faster innovation for applications, hyper-converged infrastructure, and a true hybrid cloud platform. You can learn about all these features in detail here. Interested people can access the preview version of Windows Server 2019 through Windows Insiders program.
Microsoft today also released Windows Server vNext LTSC Build 17623 with both the Desktop Experience as well as Server Core in all 18 server languages. This build also comes with below features.
Extending your Clusters with Cluster Sets

"Cluster Sets" is the new cloud scale-out technology in this Preview release that increases cluster node count in a single SDDC (Software-Defined Data Center) cloud by orders of magnitude. A Cluster Set is a loosely-coupled grouping of multiple Failover Clusters: compute, storage or hyper-converged. Cluster Sets technology enables virtual machine fluidity across member clusters within a Cluster Set and a unified storage namespace across the "set" in support of virtual machine fluidity.  While preserving existing Failover Cluster management experiences on member clusters, a Cluster Set instance additionally offers key use cases around lifecycle management of a Cluster Set at the aggregate.

Windows Defender Advanced Threat Protection 

Available in this preview, we provide deep platform sensors and response actions, providing visibility to memory and kernel level attacker activities and abilities to take actions on compromised machines in response to incidents such as remote collection of additional forensic data, remediating malicious files, terminating malicious processes etc.

If you're already using Windows Defender ATP – preview these features by simply installing the latest Windows Server preview build and onboard it to Windows Defender ATP.

Windows Defender ATP Exploit Guard

Windows Defender ATP Exploit Guard is a new set of host intrusion prevention capabilities. The four components of Windows Defender Exploit Guard are designed to lock down the device against a wide variety of attack vectors and block behaviors commonly used in malware attacks, while enabling enterprises to balance their security risk and productivity requirements.

Failover Cluster removing use of NTLM authentication

Windows Server Failover Clusters no longer use NTLM authentication by exclusively using Kerberos and certificate based authentication.  There are no changes required by the user, or deployment tools,  to take advantage of this security enhancement.  It also allows failover clusters to be deployed in environments where NTLM has been disabled.  Launch Windows Feedback for Server\Clustering

Shielded virtual machines: Offline mode, Alternate HGS, VMConnect and Shielded Linux support

You can now run shielded virtual machines on Hyper-V hosts that suffer intermittent connectivity to their Host Guardian Service (HGS).  Fallback HGS allows you to configure a second set of URLs for Hyper-V to try if it can't reach the primary HGS server.  Check out our blog to see how this can be used in a branch office scenario.
Find the full list of new features here.