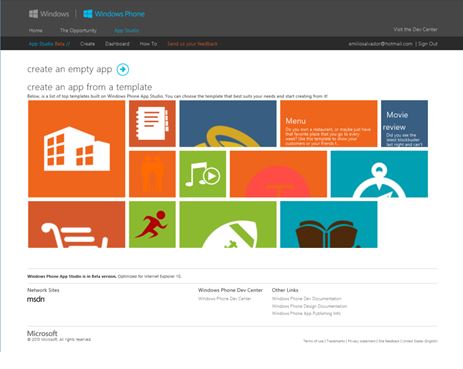 Microsoft today announced no.of things around development of apps on Windows Phone platform.
Today we're releasing a beta version of a new app development tool, Windows Phone App Studio, that can help you create your app without coding. Windows Phone App Studio is a free, web-based app creation tool designed to help anyone quickly bring an idea to life by applying text, web content, imagery, and design concepts to any one of a rich set of customizable templates. Getting started is easy – just create a Microsoft account, choose your template, and begin adding your content. Windows Phone App Studio does the rest. When you're app is ready to go, you can download the app to your own phone, or share it with others by publishing it to the Windows Phone Store.
2) Unlocking Devices with ease: 
Now, any developer can unlock and register 1 phone to load up to 2 apps. Registered developers with Dev Center accounts continue to have the option to unlock up to 3 phones and upload up to 10 apps on each. If you want to publish the app in Windows Phone Store, you can make use of $19 per year offer for developer accounts.
3) Windows Phone Dev Center Chat Support:
Windows Phone Dev Center now offers "Click to Chat" support. With this added support option, as a registered developer you can chat live with a support representative. Getting there is easy: from Submit a support ticket, just select your Problem type and Category to see the chat option
4) More countries added to support developer payment:
This week we will add developer payout in 6 more markets via Dev Center, bringing the total markets that support payout to 128. The new markets are Costa Rica, Cyprus, Kazakhstan, Lebanon, Malta, and Trinidad and Tobago. After this change is implemented, developers in these 6 markets will be able to submit both free and paid apps to the Windows Phone Store to reach users in 191 markets.
Source: Windows Team Blog