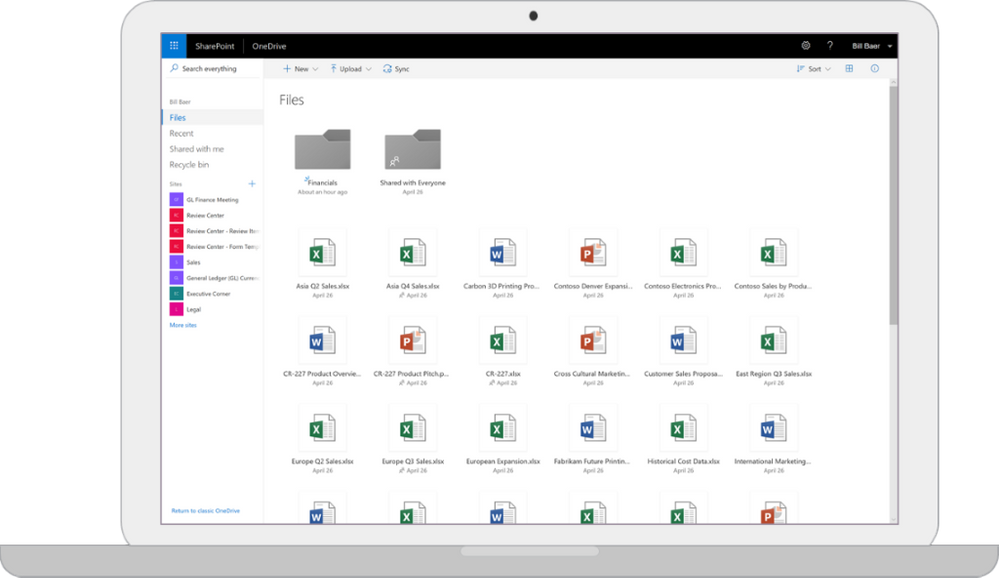 Microsoft yesterday announced the preview release of SharePoint Server 2019. SharePoint Server 2019 will come with several new improvements including improved UI, modern team sites, communication sites, lists, libraries, pages, news and more. Microsoft today highlighted the new OneDrive improvements that will be part of this upcoming server release. Read about them below.
SharePoint Server 2019 (preview available here) brings several new capabilities with OneDrive to include a new, simple, clean user interface allows you to focus on what's most important, your files – whether in OneDrive or a SharePoint Team Site that you're a member of.
New commands such as Copy to and Move to allow you to organize your files visually and the details pane brings important information about your files front and center with one easy click.
OneDrive in SharePoint Server 2019 also allows you to see files from the sites you follow or are a member of for quick access to content across your organizations' team collaboration sites, and you can quickly create new, modern sites from directly within OneDrive with one click.
Now you can access all your files across on-premises and the cloud with the new OneDrive sync client.  SharePoint Server 2019 takes advantage of the latest investments in OneDrive sync to allow for more rich scenarios and reliable sync experiences.

OneDrive Files On-Demand helps you access all your files in OneDrive without having to download all of them and use storage space on your device.

SharePoint Server 2019 now supports push notification to the OneDrive sync client. This gives users immediate notifications when changes are made to content they have synched. Now users' synced content will be refreshed as soon as changes are made instead of waiting for the next polling interval.

 With SharePoint Server 2019, Microsoft now allows admins to redirect users to OneDrive in Office 365 when they choose "OneDrive" in the app launcher. This will be helpful for organizations which selects hybrid implementation. SharePoint Server 2019 will be released in the second half of 2018.
Source: Microsoft