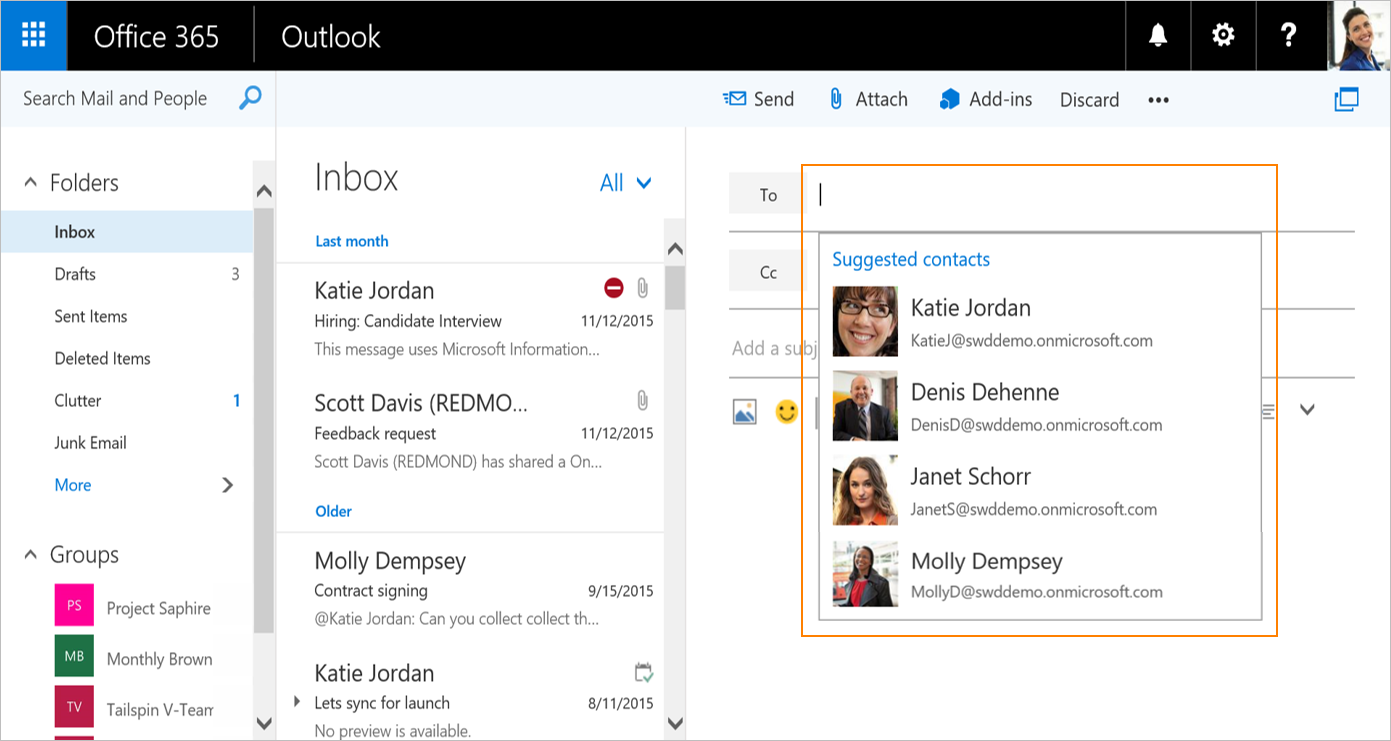 Microsoft today announced several new features in Outlook on the web for Office 365. Also, they have reduced the number of clicks to present the most relevant information at a glance. Read about all the new features below.
1. Improved Contact Card:
Outlook on the web now has updated Contact Cards which provide a "no-click" way to access common communication actions, as well as provide the ability to see who someone is and how you know them. When in Mail or Calendar, simply hover your mouse over an individual's name to bring up their Contact Card. If you are a user of Outlook 2016 on the desktop, you must find this experience familiar. The Contact Card allows you to quickly email, IM, call or create a calendar appointment. In addition, you will also see the person's job title, who they report to, as well as a recent email.
While Contact Cards provide a snapshot of info, the new Contact pane offers a deeper view of someone. Click a name—be it in the Mail, Calendar or People view—and the Contact pane slides into view. The first section of the Contact pane has the same communication actions as the Contact Card, but also includes contact information related to those actions. In addition, you'll see key information such as their team, title and office number. You can also see their reporting structure,  a rich collection of information previously shared between the two of you and more.
Improved Search:
They have improved the search box in the Mail, Calendar and People modules with more intelligence. For example, if you frequently communicate with Bill Gates, typing an "B" or "G" in the search box will bring up his name first—even if his name is not alphabetically first in your company's directory. Also, they have extended "fuzzy name" matching to Outlook search to catch common variations in how names are spelled. For example, an Outlook search for "John" will also will bring up "Jon" or "Katheryn" in addition to "Catherine."
Improved People section:
They are introducing a new "Featured People" section that contains smart lists. Smart lists allow you to view people by the way you interact with them in Outlook—such as in email or shared meetings. The smart lists include:
Frequently contacted—This list analyzes the strongest signals coming across all of Outlook to understand who you work with the most. It takes into account your communication, collaboration and business relationships.
On your calendar—List of the people found in your upcoming calendar appointments that day, which is extremely helpful when preparing for meetings. You can click through to the specific meeting to see who is attending, as well as drill down on any individual via the Contact pane.
For follow-up—List of the people who recently sent you email that might require your action. It is a good way to get an overview of who is writing you, what they are writing about and whether you have multiple follow-up items from the same person.
Favorites—The Favorites list is one you manage yourself. Similar to Skype favorites, you can add or remove people on your Favorites list for quick and easy access to the latest communication you've had with them—for people both inside and outside your organization.
You can also choose to "pin" your favorite list so it opens by default when you switch to the People view. If you don't link this concept, you can keep the traditional Contacts as your default instead.
They have also improved the way contacts are displayed so that you see the most relevant information at a glance such as the person's name, email address, job title and office number. Clicking a name will bring up the Contact pane for more detailed information.
All these new features are rolling out to our Office 365 First Release customers and will start rolling out worldwide in the coming weeks. The features are available to all Office 365 commercial subscriptions that include Outlook on the web, including Business, Enterprise and EDU plans. Microsoft also said that some of these features will be coming to Outlook on the desktop as well.