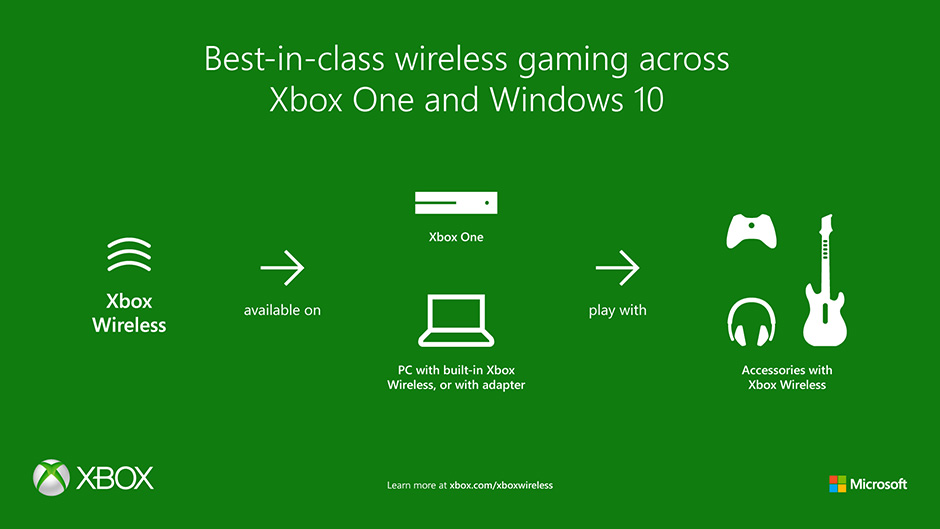 Microsoft today announced the new Xbox Wireless program that will allow gamers to connect their Xbox One accessories to their Windows PCs. With built-in Xbox Wireless, a PC will support all Xbox One wireless accessories such as the Xbox Wireless Controller straight out of the box, without needing any additional adapters or wires. Microsoft also highlighted that the newly announced Lenovo IdeaCentre Y710 Cube is the first PC with integrated Xbox Wireless. Microsoft is also working with other partners such as Astro, HyperX, Lenovo, Mad Catz, PDP, Plantronics, Razer, SteelSeries, and Turtle Beach and many more.
Xbox Wireless provides you with a best-in-class wireless gaming experience across Xbox One and Windows 10 PCs. Designed specifically for gaming, Xbox Wireless provides advantages over other connection methods, such as:
Low-latency and high-quality wireless gameplay for up to 8 devices at once
Cross-platform use across Xbox One and Windows PCs
Wireless support for stereo sound through a headset
Eliminating the need for multiple adapters or wires for each device
If you want to enjoy Xbox Wireless accessories with your current PC, you can buy the Xbox Wireless Adapter for Windows and can simply plug in to your Windows PC USB port. Look for the below Xbox Wireless logo on the box to know that the PC or accessory will work seamlessly within the Xbox Wireless ecosystem.