Microsoft yesterday announced new improvements coming to the OneDrive desktop client on Windows. The new improvements include updated Activity Center, improved battery consumption and more. Read about them below.
1) Improved Activity Center: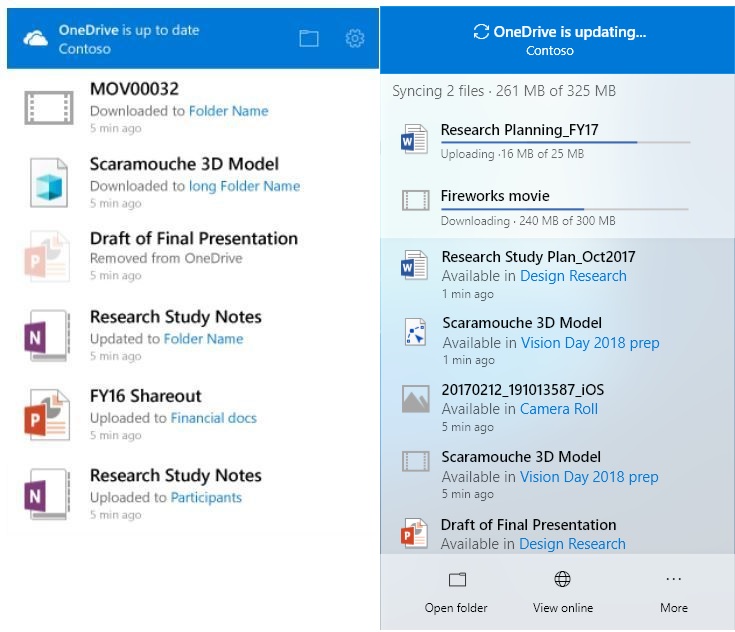 OneDrive Activity Center is the place where you can see the status of the OneDrive desktop client. Microsoft has now modernized the Activity Center to improve ease of use and understanding. This new design will begin rolling out to users in late July.
2) Improved battery life:
In order to improve battery life on Windows devices, OneDrive desktop client will now pause syncing process whenever the device changes to "battery saver" mode. It will also display a notification to inform the user about the same. When the device changes from "battery saver" mode to normal power mode, OneDrive will auto-resume the sync process. Of course, users can also forcefully sync their content using 'Sync anyway' option. In addition to the notification, OneDrive Activity Center will also display that OneDrive syncing is paused because the device is in "battery saver" mode. This feature will be rolling out to users in July 2018
3) Send feedback easily:
You can now send your feedback about OneDrive easily. You can send positive or negative feedback to the OneDrive team and also suggest new ideas by clicking on "Send Feedback" under OneDrive desktop client settings/preferences menu. This feature will be rolling out to users in July 2018.
Source: Microsoft