Microsoft today announced a new startup program called "Microsoft for Startups" that will provide product, technical, and go-to-market benefits to help accelerate the growth of startups. Through this program, Microsoft will offer joint sales engagements with startups, along with access to latest Microsoft technology, and new community spaces that promote collaboration across local and global ecosystems. Microsoft is planning to invest $500M over the next two years as part of this program. Microsoft is ready to work with startups and partners of all sizes at all stages in their growth.
Benefits of this program:
Cloud Marketplace Promotion & Sales Support: As your launchpad for your go-to-market partnership with Microsoft, our cloud marketplaces let you take advantage of promotional benefits as well as instantaneous lead sharing integrated into your CRM system when you launch an application or solution in either Azure Marketplace or AppSource.
On Demand Business Resources: Business resources that help you build your cloud business model and market strategy, including tutorials, partner profitability models, business design sessions, and other go-to-market guidance.
Local Technical and Business Events: Participate in local community events with Microsoft executives and technical or business experts.
On Demand Technical Resources: Technical resources that help you build on Azure, including code samples, Azure roadmap, Azure updates, knowledge center, whitepapers, and technical courses.
Microsoft Partner Network: Join our worldwide partner ecosystem and discover how Microsoft can help you expand your business, engage customers, and earn more money.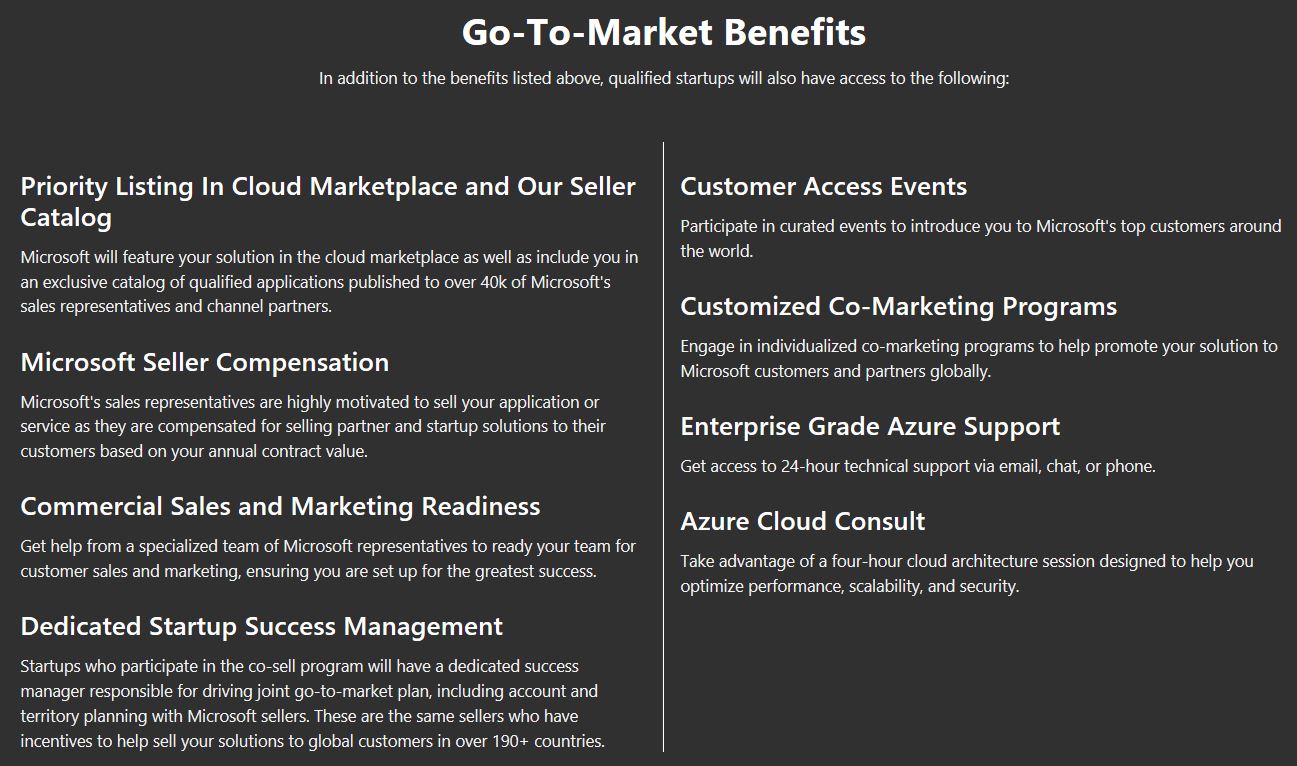 In addition to the above, Microsoft will also provide up to $120k of free Azure cloud credits, Visual Studio Enterprise Monthly Cloud Subscription, Office 365 Business Premium and Dynamics 365 for Customer Engagement and Talent.
Source: Microsoft