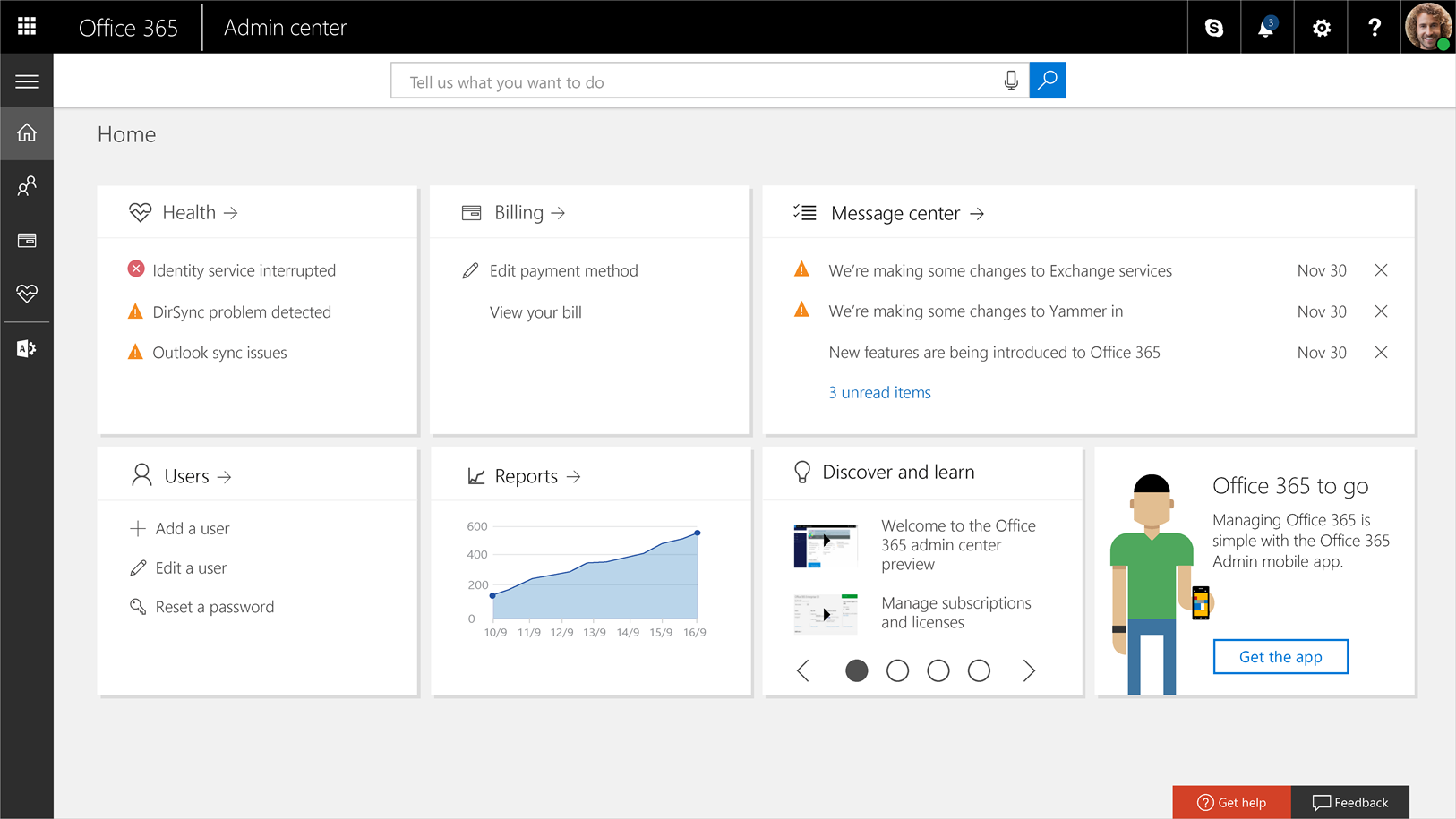 Microsoft today announced the release of the new Office 365 admin center which is now faster, easier and more efficient to manage Office 365. The new admin center includes significant enhancements, you can read about them below.
Simplification and discoverability—When you access the admin center, you don't want to spend more time in there than necessary. You want to get your work done quickly and be able to focus on all the other tasks on your long list. The new admin center allows you to manage Office 365 quickly and efficiently by showing frequent tasks directly on the dashboard and by simplifying the experience.
Search—We added a new search bar at the top of the admin center to help you quickly find the feature you want to use. Today, you can search for users and groups to look up details and make edits. In the near future, search will extend to other features as well.
Reporting—We are currently rolling out significant improvements to Office 365 reporting. Many of you already have access to a variety of new reports that provide consistent insights across all workloads and deliver details down to the individual user level. You can see how users are adopting Office 365 at the subscription level as well as for each specific workload. In the coming months, we'll add reports for OneDrive, SharePoint, Yammer and Skype for Business activity as well as on user interaction with Office 365, such as which operating systems users are on when they access the service.
In the near future, Microsoft will be adding customization and contextual help features as well.
Customization—Soon, you'll be able to customize the dashboard as well as other areas of the admin center to tailor it to your needs. For example, in a larger enterprise, your role as an admin may be focused on a specific service and billing might not be one of your areas of responsibility. To allow you to personalize the admin center, we're introducing customization.
Contextual help—We are working to include contextual help and detailed explanations of functionality right next to the task to improve your ability to quickly make settings, user or configuration changes and to use the admin center more efficiently. For example, when creating a new user account, you see details on the settings for creating account names, including limitations in length, special characters and numerals.