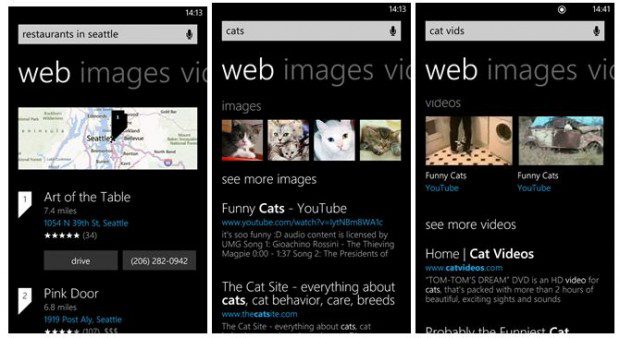 As expected, Microsoft today detailed the new look and features for Bing on Windows Phone 8 devices. Apart from the more streamlined UI, it has got many new features that will allow you to make web searches easier on your Windows Phone devices.
Design:
Instead of four tabs, you'll see just three: Web, Images, and Videos.
The new Web category, for example, is designed to be smart enough to show whatever's most relevant to your search, including images, videos, and local results
The update also brings richer results for popular websites. For example, say you search for "Delta Airlines." Bing shows delta.com as the top result, but also provides links to Flight Status, SkyMiles, Track Flight, Flight Schedules, and other popular destinations within the site, saving some taps.
There are other upgrades. The new Images and Videos categories now support infinite scrolling. Images also received a design makeover that brings larger, auto-sized thumbnails.
Also some performance improvements that will deliver faster results to your phone without taking much data transfer.
Instant Answers:
This is my most favorite feature that was announced today. This update brings 10 new Instant Answers available on the PC to the phone, including traffic, flight status, exchange rates, word definitions and translations, and more.
For example, search for "Define Awesome" to get the dictionary definition right there on the search results page, or search for "10 USD to INR" to convert from US dollars to Indian Rupees. Also Microsoft is planning to add all 30 available on PC to Windows Phone devices soon.
More at-a-glance info:
Microsoft is also bringing the Snapshot capability that was announced for desktop few months back to Windows Phone 8 in the U.S.
Search for the movie "World War Z" and you'll see reviews, cast members, related films, and even links to buy movie tickets.
So whether you're searching for a celebrity, co-worker, animal, geographic location, or man-made structure, Bing helps you better understand the world around you by providing at-a-glance answers and related info based on what people are searching for.
These Bing updates will come to U.S. Windows Phones in the coming weeks, with additional markets coming thereafter.
Source: Windows Phone Blog