To bring Microsoft 365 premium subscription benefits to more users, Microsoft has announced a new consumer-focused paid plan called Microsoft 365 Basic. The new Basic plan will offer users 100 GB of OneDrive storage, ad-free and secure email with Outlook, and access to support experts for help with Microsoft 365 and Windows 11.
Microsoft already offers 100 GB OneDrive storage as part of its premium subscription offer. However, the new Basic plan will now include additional features such as an ad-free Outlook email experience and access to expert support. However, these new benefits will be available in the early days of its launch, with more capabilities like ransomware recovery and password-protected sharing links in OneDrive becoming available later in 2023.
For those currently enjoying the existing OneDrive 100 GB subscription plan, Microsoft will update your account to Microsoft 365 Basic when the plan goes live. As for the pricing and launch date, Microsoft has said Microsoft 365 Basic will cost $1.99 per month or $19.99 per year and be available worldwide on January 30, 2023. Microsoft will not charge you extra when it adds more advanced features later in the year.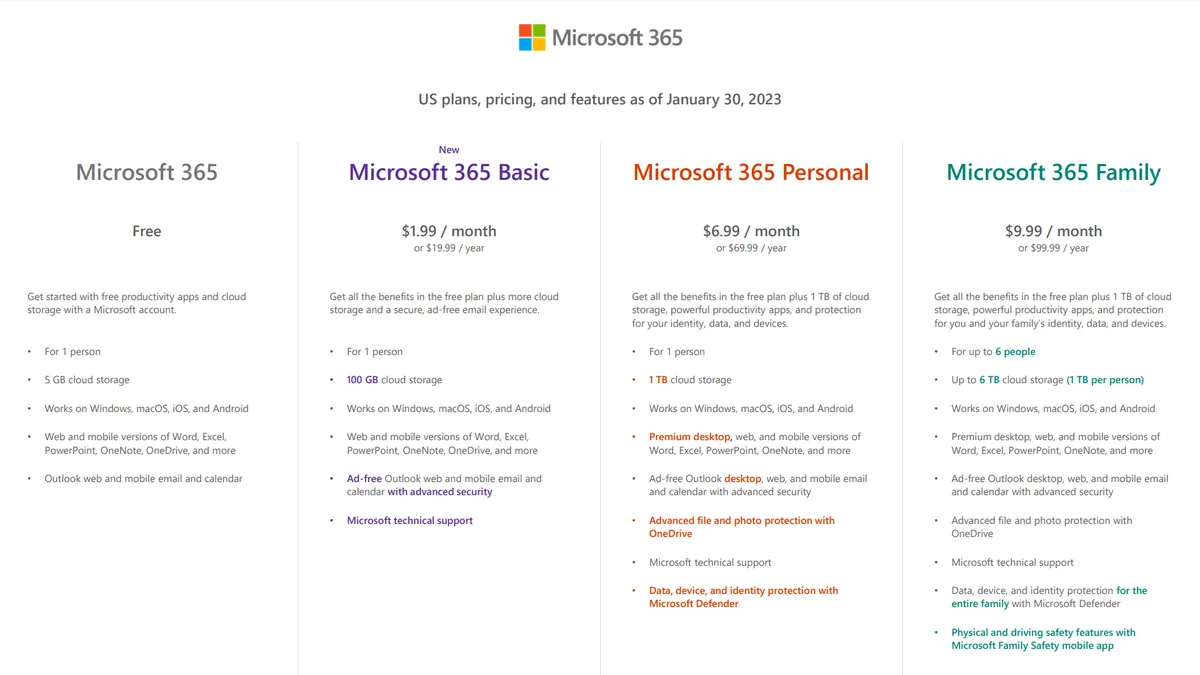 Currently, Microsoft offers Microsoft 365 Family and Microsoft 365 Personal premium subscriptions alongside the OneDrive Standalone 100 GB plan. On the other hand, free users get 5GB of cloud storage. Non-premium members will continue to enjoy 5GB of free could storage. To get 5GB of OneDrive storage, you need to have a Microsoft account.
However, if you want to upgrade from the Free plan to Microsoft 365 Basic, you will need to visit Microsoft's website or OneDrive and Outlook apps. But if you want to keep using Microsoft 365 for free, you will be able to enjoy free web-based versions of Word, Excel, PowerPoint, OneNote, Outlook, OneDrive, Clipchamp, and more, plus 5 GB of free cloud storage.
Will you upgrade to Microsoft 365 Basic when it launches? Let us know in the comments section.
Source: Microsoft