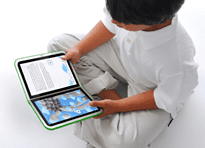 Microsoft and Barnes and Noble recently hooked up into a joint venture called NewCo, led by Andy Lees, and now, via a job posting, we have learned their mission is no less than "redefining reading."
A job posting from the 22nd August for an Office unit program manager calls for someone to work on "V1 (version 1) team" that is working on developing products and services for "active reading."
From that posting:
We are a V1 team passionate about helping shape and deliver the vision for "active reading" in a world of modern content. Text, media, and interactive elements are coming together to redefine reading as we know it. Microsoft Office Division has big plans in this area and our team is creating innovative V1 products and services that delight active readers. The recent partnership we announced with Barnes & Noble is a strong indication of our commitment to the reading space.
The job posting calls for some-one with "a broad understanding of the digital content ecosystem for books and documents"; HTML/JavaScript proficiency; and ability to work with "partners," like the Windows 8 team, suggesting a Windows 8 app, but of course Microsoft could hardly address the tablet without also doing a phone app.
eBooks is the one gap left in the Windows Phone ecosystem, and it is good to see Microsoft intends to be ambitious in addressing this issue.
Via ZDNET and Neowin.net