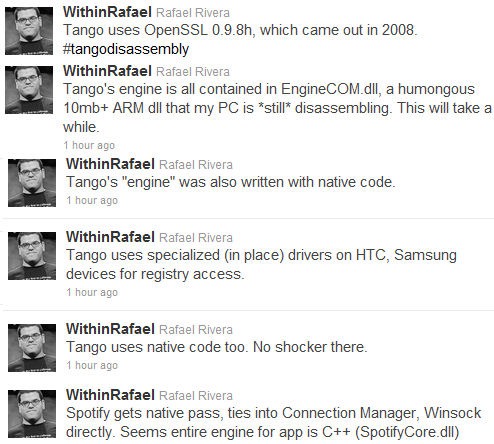 Rafael Rivera, who has been disassembling some recent high profile Windows Phone 7 apps, reports that both Spotify and Tango, the video calling app, use native ARM code to do their thing, versus higher level interpreted code like Silverlight and XNA.
The news is not in fact new, in that as far back as October 2010 we reported that Microsoft will allow some developers to use native code for their apps.  Fast forward a year, and the apps have now arrived, seemingly in droves.
Navigon is apparently another app with native access and presumably the Skype app will also use native code to run its proprietary codecs efficiently, and one wonders how many other apps published with direct involvement by Microsoft will have access to the same privilege.
We posted a few days ago that some developers felt "seriously handicapped" from bringing high performance high profile games from the iPhone to Windows Phone due to lack of access to cross platform game engines such as Unreal Development Kit and Unity3D.
Presumably with a precedent already in place for some important apps, Microsoft could also grant a blanket exception to allow Xbox Live games to use these important technologies also.
Do our readers think we should be seeing a lot more native development, including games, on Windows Phone 7 or does it open up our devices to becoming a lot more buggy and fragile? Let us know below.