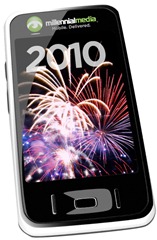 With Google going for Admob and Apple owning Quattro, it seems if you make a mobile OS you need an ad network to go with it.
Business Insider is reporting that Microsoft is making overtures at Millennial Media, one of the larger mobile ad networks, and had been negotiating the likely $500 million deal for the last 2 months.
According the Business Insider's sources the two companies have agreed on basic terms but have not finalized the deal yet.
Acquiring Millennial could quickly give Microsoft broader reach across more publishers and in mobile apps on the iPhone, Android, and other platforms, including of course Windows Phone 7. According to Nielsen, Millennial reaches more than 80% of U.S. mobile Web users, while Microsoft's in-house solution only reaches around 50%.
It has recently been suggested that Google uses ad revenue generated by devices to pay OEMs, in essence paying OEMs to use their free software. Microsoft may need a similar strategy to make their handsets cost-neutral or generate additional profit for their own OEMs.
Read more about the possible deal at Business Insider here.