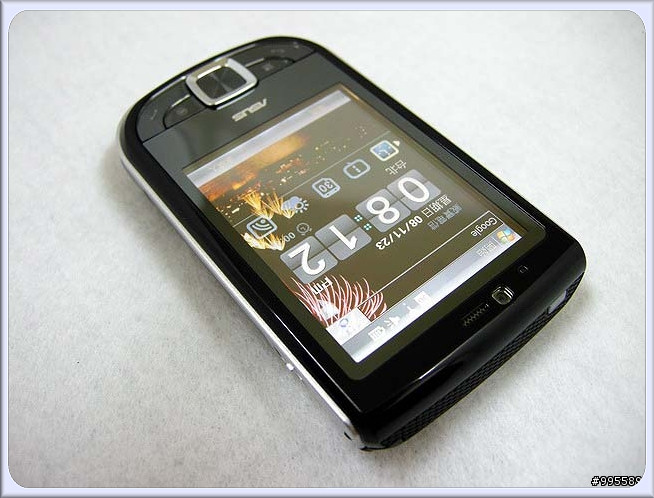 Mobile01.com has just published what is possibly the most comprehensive review of a smartphone I have ever seen. With more than 130 pictures, its possible even your desktop may run out of memory loading it.
If you do manage to load the page (and is able to tease out meaning from the Google translation) you will find the Asus P565 a very well specified smartphone that comes with a very generous package of accessories and software, including the very latest version of Garmin navigation software, unfortunately stuck on a 2GB microSD card, and many pieces of custom software covering most needs of the average user. The package also includes a car charger and cradle, further supporting its navigation functions.
The 800 Mhz processor really shows its prowess when it comes to graphics performance, being able to show 864×480 MPEG4 video at 143% speed on its VGA screen, meaning most video downloadable from the internet should play without any conversion at all. 
There are areas where the P565 did not impress – the 3 megapixel camera is only so-so, battery life was not great, the browsing experience relied on PIE instead of bundling Opera Mobile 9.5, and USB data transfer relied on USB 1.1 vs 2.0.
Mobile01 concludes:
P565 is currently using the fastest CPU, ASUS has always been coupled with the graphics ability, performance is really impress your friends. Coupled with a wealth of software with complete accessories, after almost do not need to buy other things to purchase or install any other software will be able to meet most of the use of the new version of GARMIN navigation software with VGA screen is also a must, wireless Network stability and performance of the P565, with a VGA screen, I believe many will be needed to connect the remote features a good choice of friends.

But the P565 is also in some places do not have the performance of the imperial machine, for example, the camera features make up the lack of light, built-in memory is not big enough, memory card-for-GARMIN navigation software and can not be used. No built-in g-sensor , configure and no rapid conversion of the key each time to cross / straight into the switch should be set to switch to it. The biggest headache is that it only supports USB1.1 transmission speed. If these points can be improved, I would like to be a perfect machine Emperor it!
Read the full review here.