According to WindowsPhoneAppList (somewhat more reliable than TechCrunch) marketplace has finally hit the 30,000 app milestone.  Marketplace took 312 days to reach that point, somewhat slower than the iPhone, but nearly 7 months faster than the Android Market.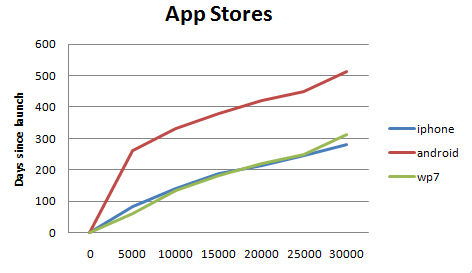 The progress is still following the trajectory of the iPhone App Store more or less, but with some slow down recently, possibly due to Mango and restrictions Microsoft placed on spam apps.
As can be seen from the graph above it is still growing much faster than the Android, which took 512 days to hit 30,000 apps.
The 30,000 number is significant in one other way – 30,000 apps is often the number which has been quoted for the total number of applications available for Windows Mobile.  Of course there are classes of apps available for Windows Mobile, like FTP clients, which are not at all available for Windows Phone 7, but with the advent of Mango this will likely change rapidly.
47% of apps are free, 20% have trials and 33% are paid and do not. Only 17% of apps are games,  and books and reference is a troubling 14% of "apps".  At least Marketplace is spared the "Themes" flood common on the Blackberry, Symbian and Android app stores.
Are our readers finding what they want more often in Marketplace? Let us know below.
Thanks Bugbog for the tip.