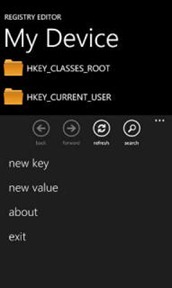 With Mango even home brew apps will not have access to the Registry.
As is often the case, Microsoft giveth with one hand and taketh with the other.
On the one hand Microsoft will be greatly improving the ability for tinkerers to get access to their phones by blessing the Chevron WP7's Home brew solution.
However it seems Microsoft has strengthened the sandbox for 3rd party Windows Phone 7 apps, including Home Brew ones, by removing the ability for these apps to make COM calls using Interop Services.
This restriction, which is enforced by the phone itself, will mean developers will be able to write whatever they want, as long as it does not access native resources like the registry, file system and just about anything else interesting.
The ChevronWP7 team are still seeing if there is a work around to the issue, but I suspect that this neutering of home brew efforts was Microsoft's intent all along, so do not expect to see Microsoft letting such a work around stand in the long term.
Via nanpho.jp