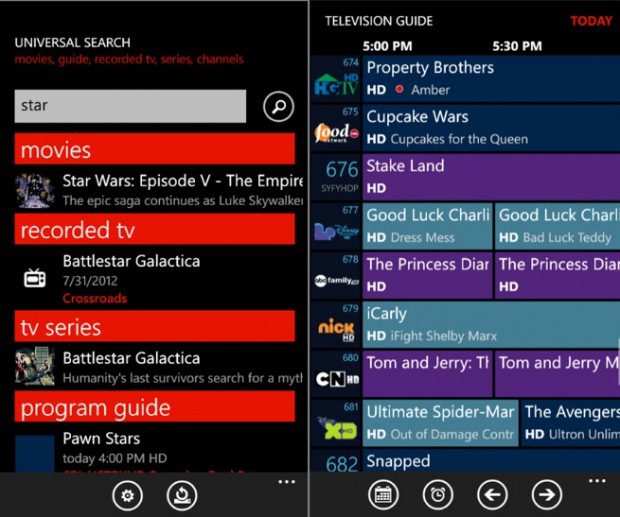 If you are still using Windows Media Center, then you may want this app called Ceton Companion. With this app you can manage and control your Windows Media Center experience from your Windows Phone after installing Ceton Companion Services on your PC.
App Description:
 •TV and Movie Gallery

Forget hopping around from the TV section to the movie section to your recorded shows. Ceton Companion lets you see an integrated view of all your shows and movies in one place.

•Manage and Schedule DVR Recordings

At work and forgot to record that show tonight? See a season premier promo that you want to record but you're away from home on a trip? Don't worry, we've got you covered.

•Universal Search

It's TV search the way it should be. You probably don't care whether your favorite show or movie is on one channel or another, in your personal library or airing later this week. We'll help you easily find what you're looking wherever it's playing.

•Play To any TV Set

Browse your TV and movie libraries, select the show you want to watch, and choose the device on which you want to watch. You don't even have to be in the same room.

•Your Mobile is the Remote

Ceton Companion includes full remote control capabilities for both your media center PC and any Ceton Echo extenders you have. Play, pause, fast forward, rewind, channel, volume … it's all there in one pretty slick touchscreen view.

Works with ANY TV Tuner on ANY Media Center PC!
Download it here from the Marketplace.