The number 1 issue of the Microsoft HoloLens and most mixed reality devices is the field of view, which is closely tied to immersion level.  Having your virtual objects being cut off and disappearing when you turn your head slightly does nothing for making you feel they are really there.
The Magic Leap headset promised to revolutionalize mixed reality but has been extremely secretive about that aspect, including commenting out the information from its recently released developer documentation.
Unfortunately, as many governments discovered, that is usually not the best way to hide information from digital documents, and Next Reality managed to restore the details, finally revealing exactly how much the virtual world will fill your field of vision.
The news is a combination of good and bad – the field of view is significantly bigger than the Microsoft HoloLens, but still far from immersive.
The documentation reads:
Field of View is widely used in XR to measure the viewable area a person can see through a device like Magic Leap One. While helpful in providing a baseline measure, Field of View can be misleading as it is a 2D concept and does not fully describe the three-dimensional attributes of space directly visible through our device. A 2D Field of View is a relative measure and is dependent upon the depth and scale of the content being viewed.

Instead, the term Viewing Frustum (or View Frustum) better describes the three-dimensional space within which lightfield objects are viewed. With a focus on design guidelines and best practices, our volumes can range from hand sized characters to larger objects like 90″ TV screens or even spaceships. Spatial computing is about working in volumes and spaces, not just a 2D Field of View.

For context, here's a list of real world items and the distance from the you at which they'd be fully contained within the viewing frustum of the device:

At 40 inches away a large house cat, laying down (29″ long, 21″ high) would be fully within the viewing frustum.
At 75 inches away a standing large dog such as a labrador or a retriever (54″ long, 40″ high) would be fully in the viewing frustum.
At 110 inches away a 90 inch widescreen TV (80″ long, 58″ high) would be fully in the viewing frustum.
At 144 inches away you can fully fit a family of three 6 foot tall humans, standing upright side by side within the viewing frustum. At 144 inches the viewable area is 104 inches long and 77 inches high.

That all said, as a developer you need to know operational values of the device. Magic Leap One has a horizontal FOV of 40 degrees, a vertical FOV of 30 degrees, and a diagonal FOV of 50 degrees. Check out the following documents and samples for more information on ways to work with the device to have larger content, and experiences, that feel good to your users.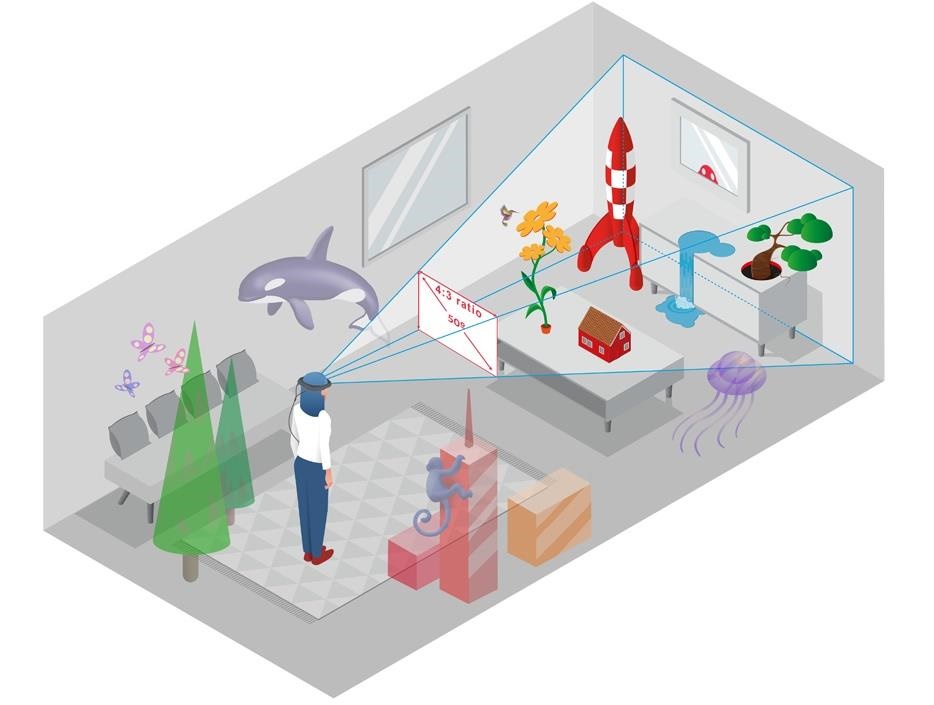 As the image above illustrates the field of view, at 40 degrees horizontal, 30 degrees vertical and 50 degrees diagonal, is enough for a lot of content at a distance, but still means you won't see objects right next to you in your peripheral vision.
Magic Leap One's FoV is a third larger horizontally and nearly double the vertical value of the Microsoft HoloLens, and therefore approximately 45% bigger overall. It is likely that HoloLens 2 will improve significantly on this number, however, making Magic Leap's lead pretty short lived.
Magic Leap does have one trick up its sleeve, however – its goggly-eyed design means users have limited peripheral vision in any case, meaning their hologram will fill a much larger part of your field of view than more open designs.  Like their hip-mounted processor and battery, this is a typical example of Magic Leap solving a problem by not really solving a problem. It will remain to be seen whether this sleight of hand will be enough to maintain interest when the devices finally come to market in the next few months.